Create Your Own Dextramer® Reagent
Klickmer™ technology allows design of custom Dextramer reagents, displaying ligands of choice. A Klickmer is a Dextramer backbone, carrying multiple acceptor sites for biotinylated molecules. Klickmer benefits of the superiority of the Dextramer technology, but gives the freedom to create customized, high-avidity multimer reagents.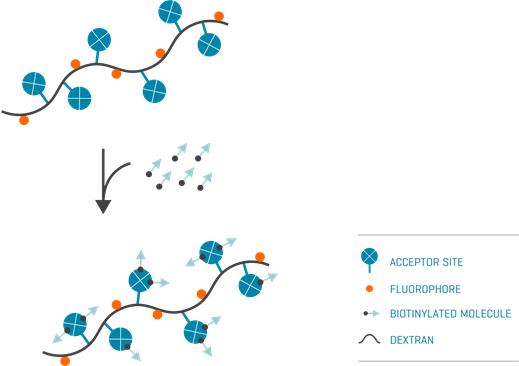 "Any" Kind of Biotinylated Molecule or Cell Can Be Linked to Klickmer, Including:
B-cell antigens
Peptides
Soluble TCRs
Interleukines
Immune stimulatory molecules
New fluorochromes
Metal chelates/Lanthanides
Get Inspired by Klickmer:
This multipurpose tool serves a range of applications and can help you address new scientific questions:
Build reagents for B-cell detection
Identify ligands for low-affinity or orphan receptors
Create an artificial vaccine scaffold
Stimulate immune cells in vitro
Key Features of Klickmer:
Applications of Klickmer™ Technology
The flexibility of Klickmer technology serves a range of applications and can help address diverse needs in research and development.
Read here how the Klickmer technology has advanced different research areas. 
Study Overview

Aim

Results

Research Area: Cancer

Technique: Flow Cytometry

Klickmer Application: Multimerization of VISTA ligand

Reference: Johnston RJ et al., Nature. 2019, doi: 10.1038/s41586-019-1674-5​

Investigation of the effects of cancer environment acidity on T-cell dysfunction

VISTA ligand is expressed by circulating and intratumoral myeloid cells and plays a role in inhibiting T-cell responses. The authors used Klickmer to multimerize VISTA protein. The resulting Dextramer® was used to detect interacting lymphocytes at different pH. The authors reported that VISTA engages and suppresses T-cells selectively at acidic pH such as tumor microenvironments.

Research Area:Vaccine Development

Technique: Macaques Immunization

Klickmer Application: Multimerization of viral proteins

Reference: Yang GB et al., J Gen Virol. 2012, doi: 10.1099/vir.0.041061-0

Generation of a vaccine against simian-human immunodeficiency virus (SHIV) in macaques

Mamu I, HIV gp140, SIV p27, and HSP 70 proteins were multimerized, using Klickmer. This Dextramer was used to immunize macaques, prior to rectal challenge with SHIV. A significant decrease in viral load was observed in macaques immunized with the Dextramer-based vaccine.  

Research Area: Infectious Disease

Technique: Flow Cytometry

Klickmer Application: Multimerization of T-cell receptor

Reference: Chancellor A et al., Proc Natl Acad Sci U S A. 2017, doi: 10.1073/pnas.1708252114

Investigation of the influence of structural variations of ligands lipids chain on the interaction with TCRs

The Germline-encoded mycolyl lipid T-cell receptor (GEM-TCR) interacts with Mycobacterium tuberculosis (Mtb) lipids presented by CD1b. The authors used Klickmer to multimerize GEM-TCR. The resulting Dextramer reagent was used to detect CD1b molecules loaded with Mtb lipids with different chain structures. This study showed that the interaction of GEM-TCR with lipid-loaded CD1b depends on the lipids' chain structure. 

Research Area: Transplantation

Technique: Elispot

Klickmer Application: Multimerization of MHC I and MHC II molecules

Reference: Luque S et al., J Immunol Methods. 2018. doi: 10.1016/j.jim.2018.07.01

Detection of circulating memory B-cells in transplanted patients

To quantify l

ong-term antigen-specific B cells-driven humoral immunity in human transplantation, it is important to measure the levels of circulating antibodies as well as memory B cells (mBC). The authors used Klickmer to multimerize MHC I and II molecules. The Dextramer reagent was then applied to develop a refined B-cell ELISpot assay for the detection of mBCs.