MHC Dextramer® Can Detect Low-affinity T-cell Receptors
The high number of MHC-peptide complexes on a MHC Dextramer increases the avidity for T cells which is particularly advantageous for low-affinity T-cell receptors (TCR).
The comparison between tetramer and MHC Dextramer for the detection of low-affinity or high-affinity TCR shows that staining with Dextramer allows the detection of antigen-specific T cells that Tetramer cannot detect. This new level of sensitivity uncovers antigen specific populations that could not previously be identified.
On the other hand, for high affinity TCR, both tetramer and Dextramer can detect the antigen-specific population, but MHC Dextramer staining shows a higher fluorescence resolution.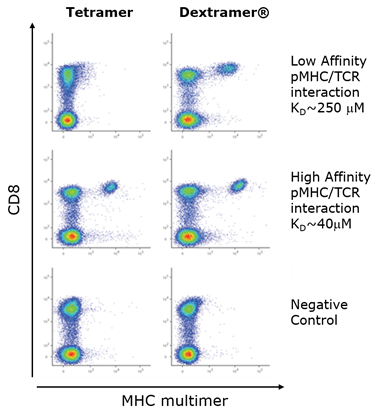 MHC Dextramer® Detects T Cells With Higher Resolution 
The high number of fluorochromes on a MHC Dextramer increases the fluorescence intensity of the antigen-specific cells detected. This allows the visualization of the cells with a fluorescence intensity three folds higher than with other multimer technologies. 

MHC Dextramer® Reagents Provide the Highest Resolution With the Lowest Background.
Compared to other multimer technologies (tetramer and pentamer), MHC Dextramer identifies antigen-specific T cells with the highest resolution and the lowest background staining.
MHC Dextramer® Reagents are Produced to the Highest Quality With Minimum Lot-to-lot Variation
Comparing three different batches of MHC I Dextramer reagents specific for EBV, CMV (two different peptides), and Flu, the percentage of CD8+ antigen-specific T cells identified with each batch is comparable.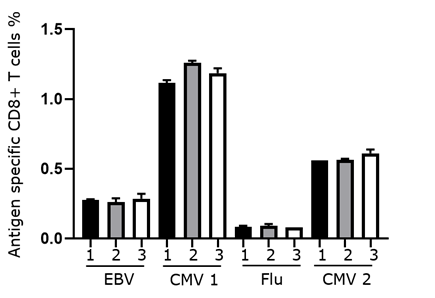 Our Technology
All our products are based on the following technologies: