Excellence in Manufacturing and Beyond
Responsibility for manufacturing clinical-grade reagents does not end upon shipment
Ensuring high-quality in production, prior to release, and during use

Immudex stands behind every reagent produced with documented evidence of quality, batch consistency, and stability. 
Built into the Immudex Clinical-Grade Dextramer® reagents offering are multiple checks to ensure that every batch delivered is a robust, tailored component of a long-term strategy for immune monitoring.
Download the product flyer
MANUFACTURING
In accordance with
ISO 13485 and 21 CFR 820
IN-PROCESS QUALITY CONTROL
MHC-peptide integrity
Biotinylation degree
Monomer degradation

FINAL QUALITY CONTROL
MHC Dextramer® integrity
PRODUCT RELEASE
Labeling review
Batch record review
Certificate of Analysis provided
Quality that Meets Authoritative Standards and Requirements
Immudex Clinical-Grade Dextramer® reagents meet numerous requirements in accordance with quality system requirements for medical devices defined by ISO 13485 and 21 CFR 820 to be used as:
Components for laboratory-developed tests (LTD)
Reagents for medical devices governed by the Clinical Laboratory Improvement Amendments (CLIA), the US Food & Drug Administration (FDA), and the EU In Vitro Diagnostic Directive (IVDD)
Tools for clinical investigations in accordance with good clinical (laboratory) practice (GC(L)P) and in compliance with ethical principles of medical research involving human subjects as set forth by the Declaration of Helsinki
Materials in manufacturing and quality control of investigational and commercial pharmaceutical products in compliance with good manufacturing practices (GMP)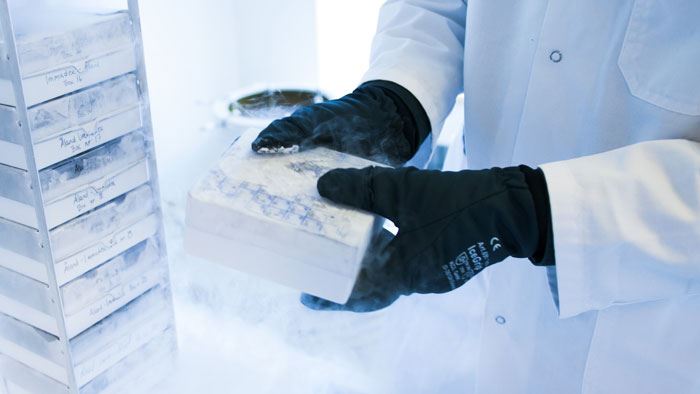 Order Clinical-Grade Dextramer® Reagents

Find a broad selection of already available Clinical-Grade Dextramer® reagents in the table below.
If you are interested in other specifications, please contact us at customer@immudex.com to process your request.
You can find a list of our current available MHC alleles.
To order your off-the-shelf Clinical-Grade Dextramer® reagent, please send an email to ordering@immudex.com specifying:
Cat. no
Test size (50, 150 tests)
Immudex has updated the catalog numbers. To learn more about it, please consult the document here
| | | |
| --- | --- | --- |
| Cat. No. | Allele | Peptide |
| WB03247G | HLA-A*0201 | SLLMWITQV |
| WB04198G | HLA-A*0201 | KVLEHVVRV |
| WB02696G | HLA-A*0201  | SLLMWITQC |
| WB03578G | HLA-A*0201 | GVYDGREHTV |
| WB03723G | HLA-A*0201 | FMNKFIYEI |
| WB03474G | HLA-A*0201 | KVLEYVIKV |
| WB03246G | HLA-A*0201 | GLYDGMEHL |
| WB04074G | HLA-A*0201 | SLLQHLIGL |
| WB02162G | HLA-A*0201 | ELAGIGILTV |
| WB03429G | HLA-A*0201 | WLSLLVPFV |
| WB04315G | HLA-A*0201 | RMSAPSTGGV |
| WB04313G | HLA-A*0201 | FLLDGSANV |
| WB03823G | HLA-A*0201 | YMLDLQPET |
| WB02666G | HLA-A*0201 | Neg. Control |
| WA02131G | HLA-A*0101 | VTEHDTLLY |
| WB02132G | HLA-A*0201 | NLVPMVATV |
| WC02197G | HLA-A*0301 | KLGGALQAK |
| WF02133G | HLA-A*2402 | QYDPVAALF |
| WH02135G | HLA-B*0702 | RPHERNGFTVL |
| WH02136G | HLA-B*0702  | TPRVTGGGAM |
| WI02137G | HLA-B*0801 | ELRRKMMYM |
| WK02138G | HLA-B*3501 | IPSINVHHY |
| WI03233G | General | Neg. Control |
| | | |
| --- | --- | --- |
| Test Size  | Price (EUR) | Price (USD) |
| 50 tests | 1.760 | 2.035 |
| 150 tests | 3.520 | 4.070 |