Don't Risk Missing Crucial Information
Dextramer® reagents are designed with the needs of researchers and clinicians worldwide in mind, ensuring high sensitivity and reproducible results.
Uncover T cells That Other Technologies Miss
Dextramer® reagents are optimized with a high number of MHC-peptide complexes that increase the avidity for T cells, allowing you to monitor also low-affinity T-cell receptors (TCR).
Staining with Dextramer® reagents allows detecting antigen-specific T cells that tetramer cannot detect (Dolton et al., 2018). This new level of sensitivity can uncover antigen-specific populations that could not previously be identified.
In high-affinity TCR, Dextramer® reagents show a higher fluorescence resolution than tetramer.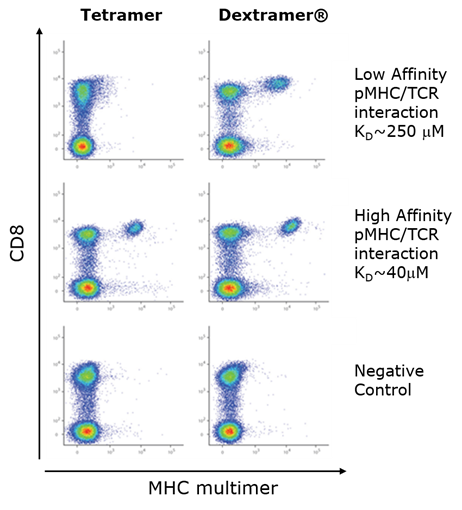 Ensure the Highest Resolution
The high number of fluorophores attached to the dextran backbone increases the fluorescence intensity of the antigen-specific cells detected.
Dextramer® reagents provide you with a better cell visualization thanks to achieving a fluorescence intensity three folds higher than other multimers.

Get a Clear Picture – Highest Resolution With the Lowest Background
Ensure the highest resolution with the lowest background.
Compared to other multimer technologies (pentamers and tetramers), Dextramer® reagents can identify antigen-specific T cells, ensuring the highest resolution and the lowest background staining.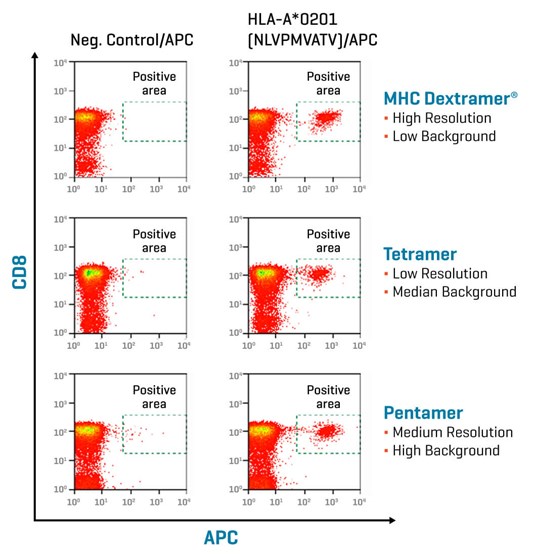 High-Quality Reagents for Your Research
An internal comparison study was run with three different batches of MHC I Dextramer® reagents specific for EBV, CMV (two different peptides), and Flu.
The study showed that the percentage of CD8+ antigen-specific T cells identified with each batch is comparable.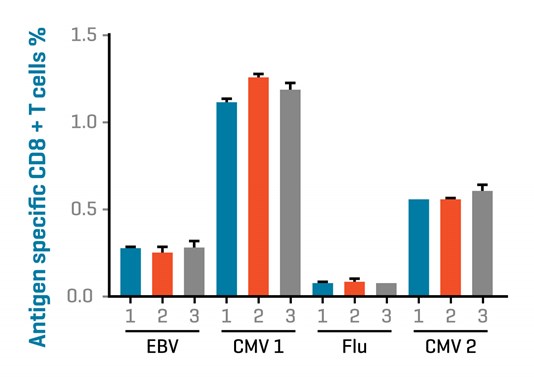 Scientific Insights and References
Challenge the Limits of Immune Monitoring