MHC I Dextramer® – Identify Antigen-Specific CD8+ T Cells
Capture the Complete Diversity of T Cells
MHC I binds and presents antigens from the cell cytosol to activate antigen-specific CD8+ T cells. This antigen-specific immune response is a key process in cancer, autoimmune disease, transplantation, infectious disease, and allergy. Thus, examining the full repertoire of CD8+ T cells, including those with low antigen affinity, is essential.
With an optimized number of MHC-peptide complexes and a choice of fluorophores (PE, APC, FITC, or none), MHC I Dextramer® reagents boost analysis sensitivity in flow cytometry beyond that achieved by other technologies.
READ MORE DETAILS IN OUR FAQs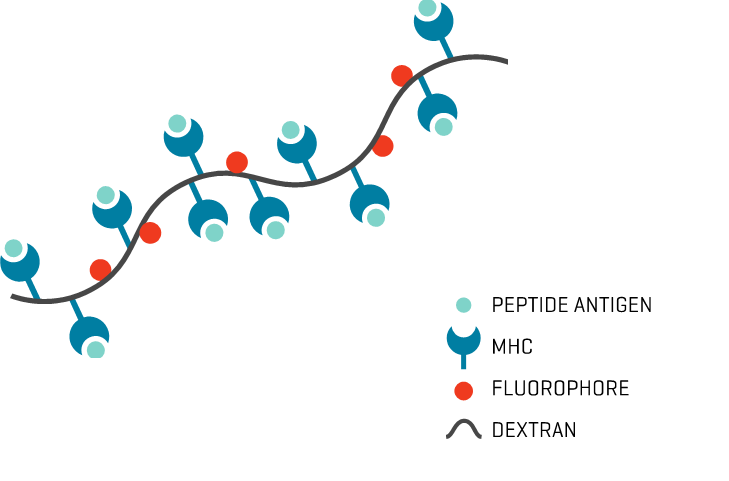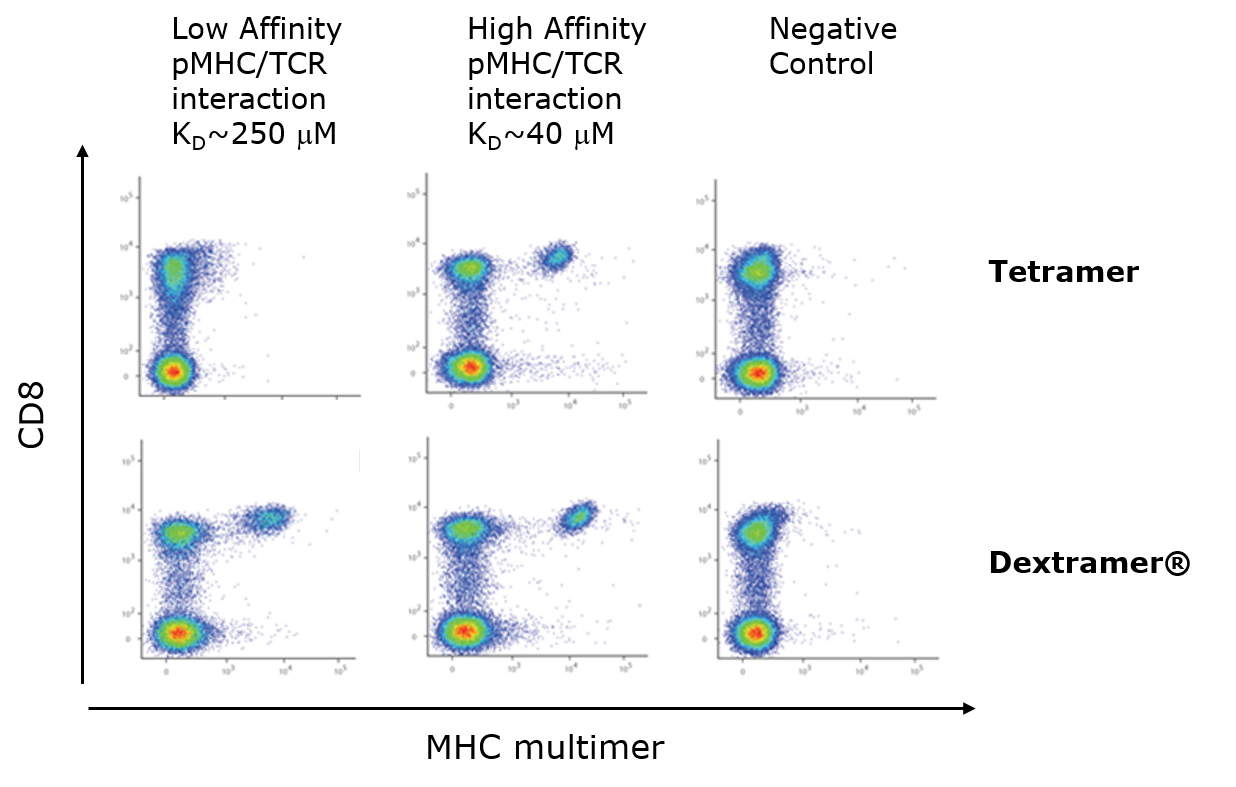 MHC I Dextramer® detects low-affinity antigen-specific CD8+ T cells invisible to the corresponding tetramer (Dolton et al. 2014).
No Compromises in Performance
MHC I Dextramer® reagents are designed to meet strict quality and performance criteria, ensuring highly reliable research insights.
Get the full picture of CD8+ T-cell responses, even the low-affinity ones.
Ensure consistent, reproducible, and comparable results
Expand the limits of your research
Secure flexibility in your experiments
Discover Dextramer® Controls
Order MHC I Dextramer®
You can order MHC I Dextramer® reagents in one of three ways:
Use the table below to find and order your MHC I Dextramer® reagent online
If you can't find the reagent to meet your research needs, create a custom reagent using our custom tool at the bottom of the page
Alternatively, send an e-mail to ordering@immudex.com specifying: 
Catalog number or desired MHC allele-peptide combination:
    - Calculate the predicted MHC-peptide affinity using our prediction tool
    - Consult our lists of available MHC alleles
Fluorophore (PE, APC, FITC, or none)
Test size (50,150, 500, 1000 tests). One test is 10 µl reagent and sufficient to stain 1–3 x 106 lymphoid cells or 1–3 x 105 clonal antigen-specific T cells.
Immudex has updated the catalog numbers. To learn more about it, please consult the document here
T-Cell Epitopes for the Most Commonly Used Cancer Models Are Also Available
Follow the ordering instructions to get the right MHC I reagents for your research
Mouse Model

Antigen

Allele

Peptide

MC38

Rpl18

H-2 Kb

KILTFDRL

Adpgk

H-2 Db

ASMTNMELM

Cpne1

H-2 Db

SSPYSLHYL

Irgq

H-2 Db

AALLNSAVL

Reps1

H-2 Db

AQLANDVVL

B16

TRP2

H-2 Kb

SVYDFFVWL

Gp100

H-2 Db

KVPRNQDWL

SIY

H-2 Kb

SIYRYYGL

CT26

AH1

H-2 Ld

SPSYVYHQF

EG.7-OVA

OVA

H2 Kb

SIINFEKL

MC38-OVA

OVA

H2 Kb

SIINFEKL

B16-OVA

OVA

H2 Kb

SIINFEKL