Unravel Immunity Beyond T Cells with Your Customized Klickmer®
Reliable Dextramer® technology combined with tailorable opportunities for boundless research insights
Based on the Dextramer® technology adapted to carry multiple universal acceptor sites, Klickmer® reagents offer unprecedented avidity for any well-defined binding target.
Combine Klickmer® reagents with your choice of biotinylated molecules to create tailored multimers that efficiently bind B cells, cancer cells, infected cells, and much more. Choose from FITC, PE, APC, or NONE (unlabeled).
READ MORE DETAILS IN OUR FAQS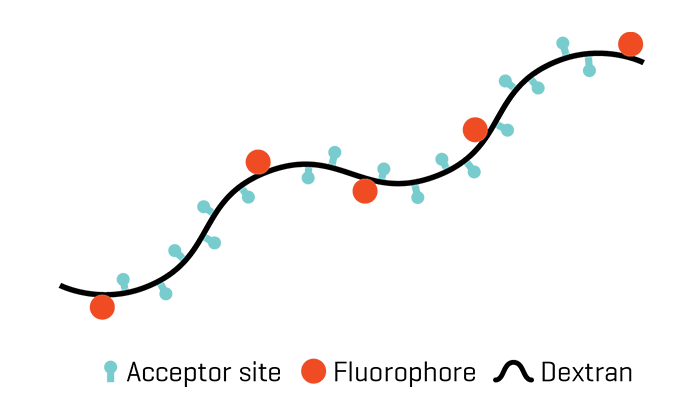 A Multipurpose Reagent for Previously Undetectable Targets
Customized, sensitive, and efficient detection of your target of choice. With optimized loading capacity, Klickmer® reagents facilitate the detection of conventional and non-conventional cell populations via flow cytometry and in-situ staining.  
Attach your biotinylated molecule of choice to Klickmer®
Features the stability and specificity characteristic of the Dextramer® technology
Enables high-resolution detection in numerous applications
With short production turnaround time, saves time searching and sourcing reagents.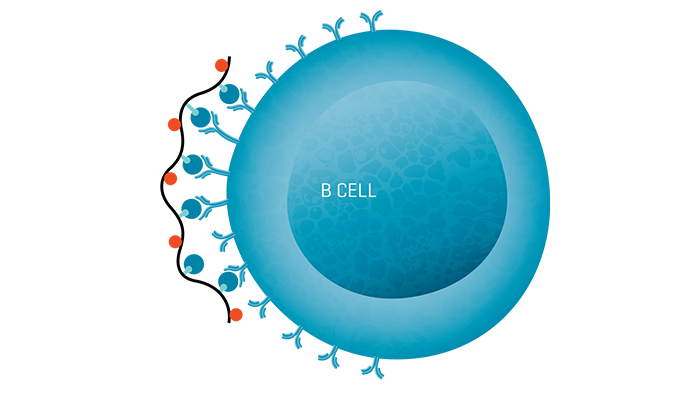 Applications of Klickmer®
B-cell detection by attaching antigens to Klickmer®
Molecular vaccine design
Validation of peptide binding to MHC
Detection of low-affinity targets, receptors, or cells
Designing multivalent, high-affinity detection molecules
Attaching peptides, antibodies, receptors, ligands, etc.
READ CASE STUDIES
Detect Antigen-specific B cells with Klickmer®
Detecting antigen-specific B cells has long been a challenging task, but with our Klickmer® technology, we have developed a multipurpose reagent that simplifies and enhances the detection and isolation of rare or low-affinity, antigen-specific B cells.
Find more valuable insights, experimental tips, and a detailed protocol to detecting antigen-specific B cells in our Application Note.
Download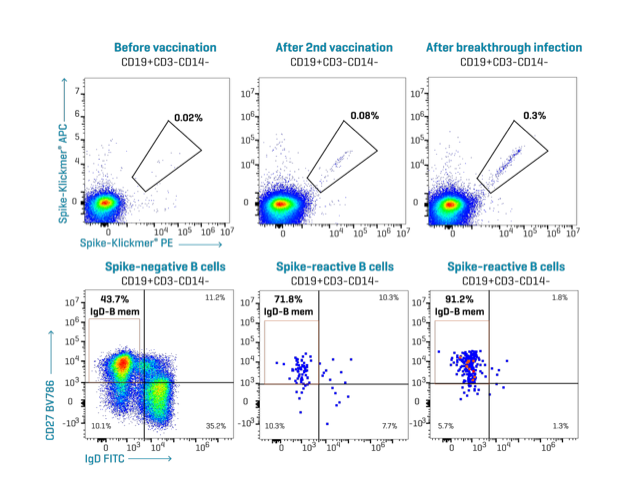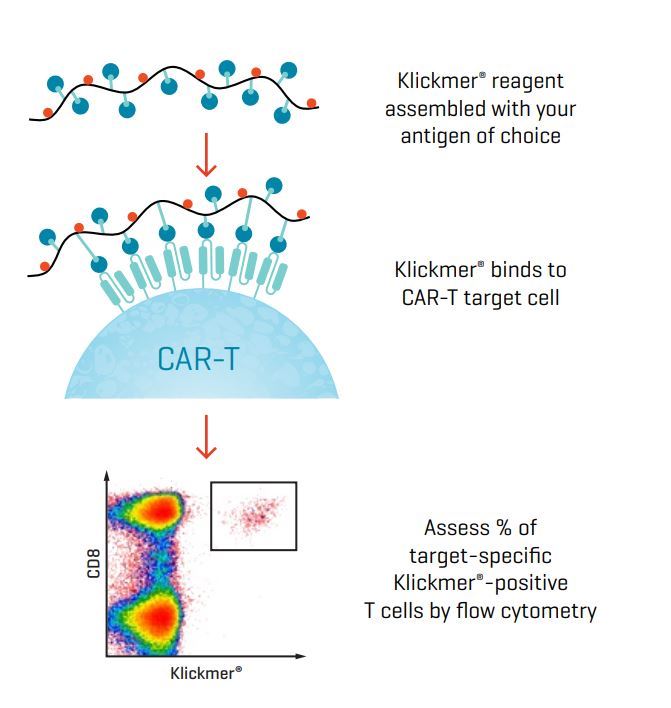 CAR-T Therapy
Klickmer® technology enables the creation of customized multimers that bind with high avidity to your target of choice. This technology may help to directly detect and quantify CAR-T cells with high sensitivity. Barcode enabled dCODE Klickmer® reagents allow in-depth characterization of CAR-T cells.
Discover Cell Therapy Applications
Introducing dCODE Klickmer®
A revolutionary solution for sequencing and single-cell multi-omics
Designed for single-cell multi-omics, dCODE Klickmer® can provide you with insights into gene expression, surface marker expression, and V(D)J sequencing.
Explore the possibilities of dCODE Klickmer® and unlock a wealth of knowledge.
Discover dCODE Klickmer®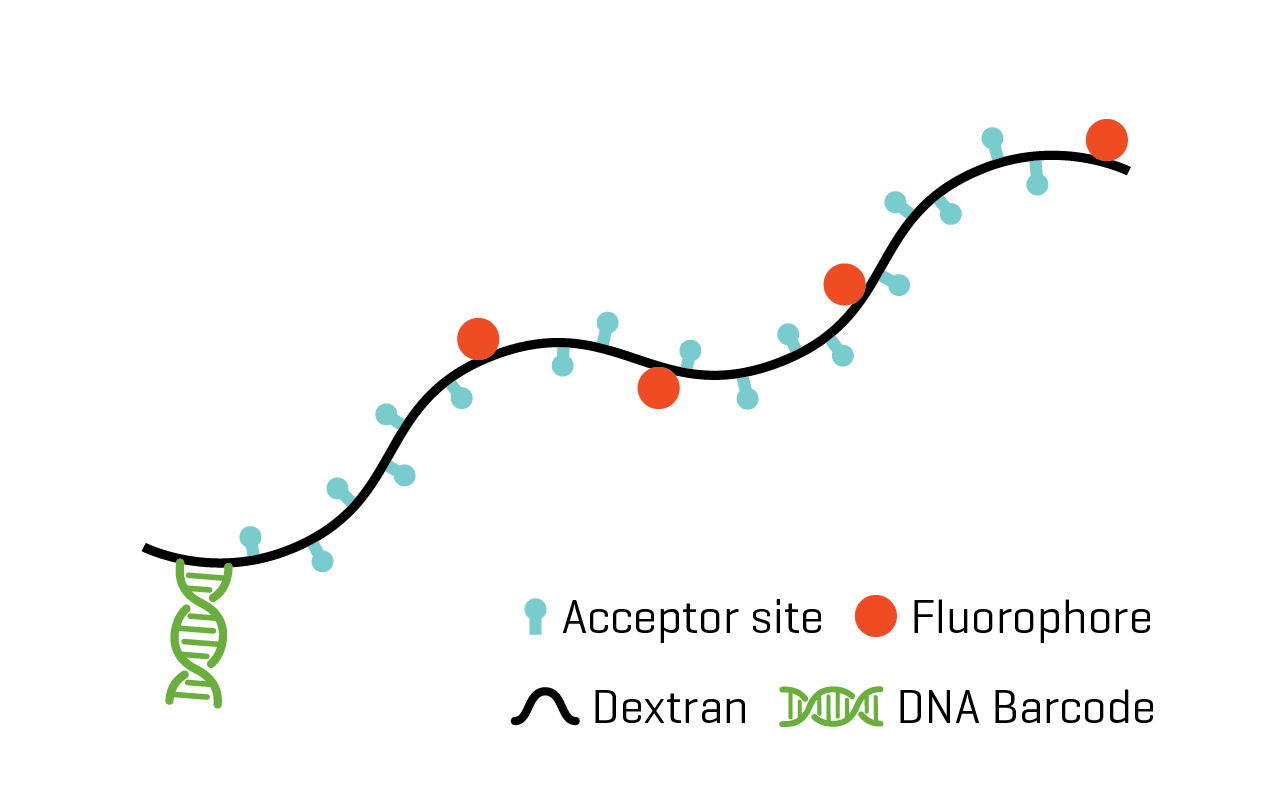 Order Klickmer® Reagents
To order, please contact our ordering team specifying your selection of fluorochrome and product volume.


| | | | | |
| --- | --- | --- | --- | --- |
| Fluorochrome | Cat. Number | Volume | Price (EUR) | Price (USD) |
| Klickmer®-PE/APC/FITC/none | DX01K-PE/APC/FITC/NONE | 60 µL | 950 | 995 |
|   |   | 200 µL | 2,700 | 3.085 |
|   |   | 1000 µL | 5,625 | 6.490 |
|   |   | 2000 µL | 9,735 | 10.815 |
Please note: Immudex has updated catalog numbers. To learn more, please consult our catalog here.
For more information about our products or interest in other product volumes, please contact us.
Questions?

Do you have questions about the Klickmer® technology, implementing the technology into your experimental workflow, protocol optimization, or data analysis and interpretation?
Our technical support team consists of highly skilled scientists that are here to empower you to improve your results, provide you with the tools for success, and share our expertise.