For T-cell Research and Beyond
Klickmer® is a Dextramer® backbone, carrying multiple acceptor sites, enabling binding of a high number of biotinylated molecules to generate high avidity multimers, displaying the molecule of choice. Klickmer® reagents can be fluorescently labeled (PE/FITC/APC) or unlabelled. 
Klickmer® is also available in a DNA barcode labeled version, dCODE® Klickmer, for multi-omics analysis. Find out more about dCODE® Klickmer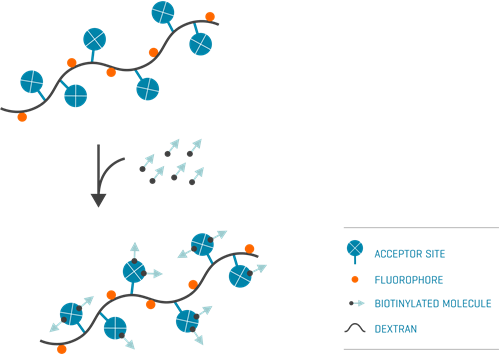 Klickmer® Applications
Any biotinylated molecule can be attached to a Klickmer®. This multipurpose tool serves a range of applications and can help address diverse needs in research and development.
Highly sensitive detection of antigen-specific T cells and B cells
Simulation of antigen presentation
Identification of ligands for low-affinity interactions
Isolation of specific cell populations
Amplification of the signal on your cell populations
Additionally, using MHC-Klickmer reagent, it is possible to create a Dextramer® reagent simultaneously displaying peptide-loaded MHC complexes and other molecules of choice (Ref. 10). For more information about MHC-Klickmer reagents, please contact us.
How to Order Klickmer®
For Klickmer® and MHC Klickmer®, define your choice of fluorochrome and volume and send an email to ordering@immudex.com
Immudex has updated the catalog numbers. To learn more about it, please consult the document here
Fluorochrome
Cat. Number
Volume
Price (EUR)
Price (USD)
Klickmer

™

-PE/APC/FITC/none
DX01-PE/APC/FITC/none
200

 

µl

2.499
2,849
 
 
1000

 µl

5.199
5,999
 
 
2000

 µl

8.999
9,999
To order dCODE® Klickmer, please send an email to customer@immudex.com
References
Wolf D, et al. Pathogenic Autoimmunity in Atherosclerosis Evolves From Initially Protective Apolipoprotein B 100-Reactive CD4 + T-Regulatory Cells. Circulation. 2020 Sep 29;142(13):1279-1293.


Greenshields-Watson A, et al. CD4+ T Cells Recognize Conserved Influenza A Epitopes through Shared Patterns of V-Gene Usage and Complementary Biochemical Features. Cell Rep. 2020 Jul 14;32(2):107885.


Johnston RJ, et al. VISTA is an acidic pH-selective ligand for PSGL-1. Nature. 2019;574(7779):565-570. 


Dolton G, et al. Optimized Peptide-MHC Multimer Protocols for Detection and Isolation of Autoimmune T-Cells. Front Immunol. Published 2018 Jun 29. 2018;9:1378.


Luque S, et al. A multicolour HLA-specific B-cell FluoroSpot assay to functionally track circulating HLA-specific memory B cells. J Immunol Methods. 2018;462:23-33.


Bentzen AK, et al. T cell receptor fingerprinting enables in-depth characterization of the interactions governing recognition of peptide-MHC complexes [published online ahead of print, 2018 Nov 19]. Nat Biotechnol. 2018;10.1038/nbt.4303.


Chancellor A, et al. CD1b-restricted GEM T cell responses are modulated by Mycobacterium tuberculosis mycolic acid meromycolate chains. Proc Natl Acad Sci U S A. 2017;114(51):E10956-E10964.


Massilamany C, et al. Major Histocompatibility Complex Class II Dextramers: New Tools for the Detection of antigen-Specific, CD4 T Cells in Basic and Clinical Research. Scand J Immunol. 2015;82(5):399-408.


Neller MA, et al. Naive CD8⁺ T-cell precursors display structured TCR repertoires and composite antigen-driven selection dynamics. Immunol Cell Biol. 2015;93(7):625-633. 


Lolli F, et al. Increased CD8+ T cell responses to apoptotic T cell-associated antigens in multiple sclerosis. J Neuroinflammation. Published 2013 Jul 27. 2013;10:94.


Kasmar AG, et al. Cutting Edge: CD1a tetramers and dextramers identify human lipopeptide-specific T cells ex vivo. J Immunol. 2013;191(9):4499-4503.


Yang GB, et al. Immunization with recombinant macaque major histocompatibility complex class I and II and human immunodeficiency virus gp140 inhibits simian-human immunodeficiency virus infection in macaques. J Gen Virol. 2012;93(Pt 7):1506-1518.


Mörner A, et al. Immunization with recombinant HLA classes I and II, HIV-1 gp140, and SIV p27 elicits protection against heterologous SHIV infection in rhesus macaques. J Virol. 2011;85(13):6442-6452.


Wang Y, et al. P19-20. Allogeneic stimulation of the anti-viral APOBEC3G in human CD4+ T cells and prevention of SHIV infectivity in macaques immunized with HLA antigens. Retrovirology. Published 2009 Oct 22. 2009;6(Suppl 3):P340.