TCR Solutions

to Advance Your Research
Immudex produces your TCR candidates, either as Soluble TCR Monomers or as TCR Dextramer® reagents. TCR Solutions are offered as part of our Custom Solutions and Services, led by our dedicated team of experts. 
Provide us with your candidate TCR sequences or discover them in your lab using dCODE Dextramer® reagents for single-cell multi-omics. Immudex will build your TCR Solution with many applications, including: 
Cross-reactivity screening

 

TCR-like antibody applications

 

Quantification of Antigen-Presenting Cells (APCs)

 

Cell therapy e.g. TCR-T and CAR-T

 

Analysis of TCR-pMHC complex affinity

 

Validation and characterization of candidate TCRs 

 

Quality control of peptide or cell-based vaccines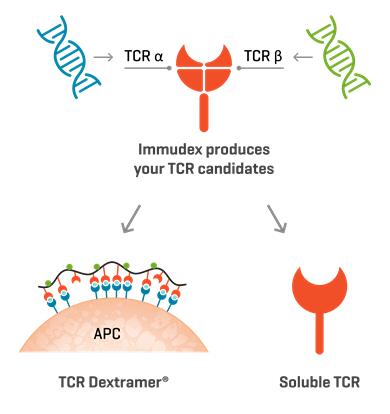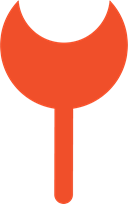 Soluble TCR Monomers
Produced by expressing and refolding the TCR α and beta β chains. Soluble TCR Monomers are manufactured based on your candidate TCR sequences and undergo rigorous quality control to confirm specificity and functionality.
20 µg, 100 µg, and 200 µg
TCR Dextramer®
Our experts combine your soluble TCR Monomers with the Dextramer® dextran backbone, enabling the reliable detection of pMHC complexes by flow cytometry or in-situ staining with high sensitivity.
50, 150, or 500 tests
FITC, PE, or APC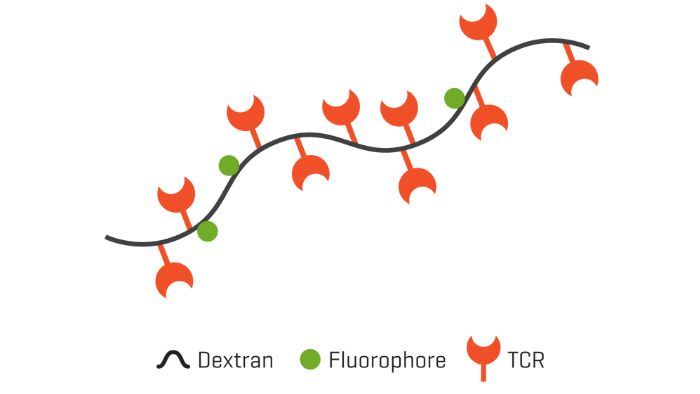 Ensure Specificity, Functionality, and Quality
Immudex' TCR Solutions are under strict quality control and functional testing, thus making it the safe choice for your research. 
SDS-PAGE gel confirms TCR alpha and beta chains are present at the correct sizes. 
Testing functionality and specificity of TCR Solutions by generating TCR Dextramer® reagents and analyzing them by flow cytometry.   
Orange peak = negative control pMHC (irrelevant pMHC that should not interact with the TCR Dextramer

®

)  

 

Blue peak = the shift indicates the binding of the TCR Dextramer

®

to its cognate pMHC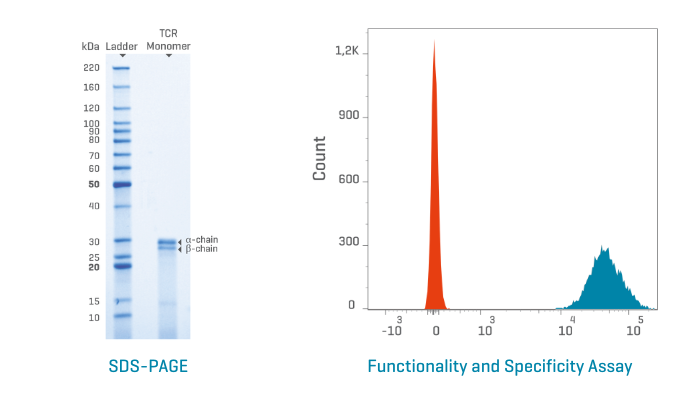 Support and Guidance from Start to Finish
TCR Solutions consist of different phases designed to meet the success criteria of your research, including the design of relevant TCR construct(s), protein expression, quality control, and final production of your Soluble TCR Monomers or TCR Dextramer® reagents. Immudex experts will accompany you through every phase of the project. 

In Need of a TCR Solution?
Contact our experts to discuss how TCR Solutions can advance your research.