Precision Immune Monitoring in Cell Therapy
​
Explore how Dextramer® reagents support the development and manufacturing of effective cell therapies.​

Monitor Antigen Specificity
​Specificity can be key to successful immune cell therapy. Immudex provides high-quality Dextramer® reagents that enable precision cellular immune monitoring of antigen-specific cells for advanced cell therapy.​

Reagents for Development and

 

Manufacturing
​Immudex is committed to providing sensitive Dextramer® reagents for precise detection, isolation, and validation of antigen-specific cells in cell therapy development and manufacturing.​​

Clinical Grade Reagents
​
Immudex provides high-quality GMP Dextramer® reagents that meet authoritative standards for production and manufacturing of cell therapy products.​
Specificity can be Key to Successful Immune Cell Therapy
Immudex provides high-quality Dextramer® reagents that enable precision cellular immune monitoring of antigen-specific cells.
Dextramer® technology can characterize and validate antigen-specific cell therapy products with high resolution during development, manufacturing, and release testing.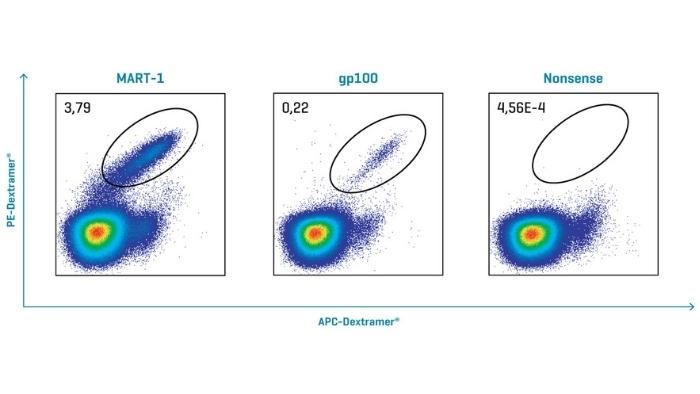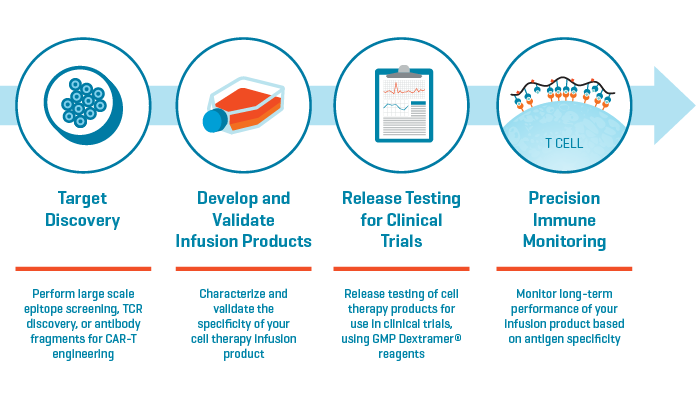 Develop and Manufacture Cell Therapies with Dextramer® Technology 
Explore Case Studies – Applications of Dextramer® Technology in Cell Therapy
Screening for Cross-Reactivity and Validation of Peptide-Centric CAR-T Cells for Neuroblastoma using MHC Dextramer®
Plasmacytoid Dendritic Cell Line-Based Vaccine Primes and Expands Antitumor T Cells in Melanoma Patients
Identifying Shared Tumor Epitopes from Endogenous Retroviruses for High-Avidity Cytotoxic TILs using MHC Dextramer®​
Identification of Epitopes that Pose as Attractive Targets for Vaccination and Other T-Cell Therapies with Klickmer®
Assessment of the safety and efficacy of a novel vaccine in high-grade glioma patients with Dextramer®
Exploring Neoantigen Cancer Vaccines in Combination with Immune Checkpoint Inhibitors Using MHC Dextramer®​
Dextramer
®
Reagents
Enable TCR Discovery
Immudex provides a range of ready-to-use, customizable, and peptide-receptive Dextramer® reagents enabling the discovery, characterization, and isolation of TCRs with therapeutic value across different platforms, including in-situ, flow cytometry, NGS, and single-cell multi‑omics.  
Download TCR Discovery Application Note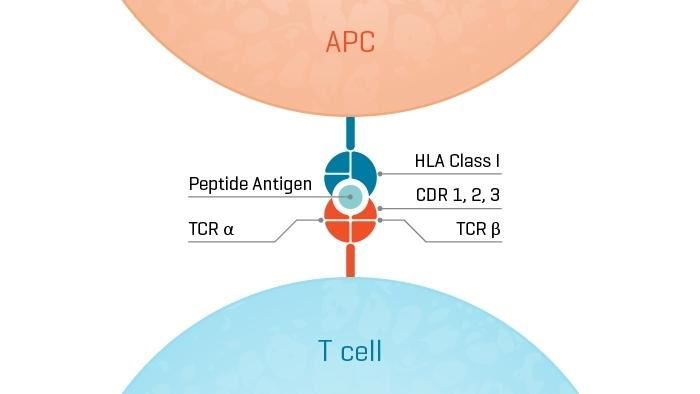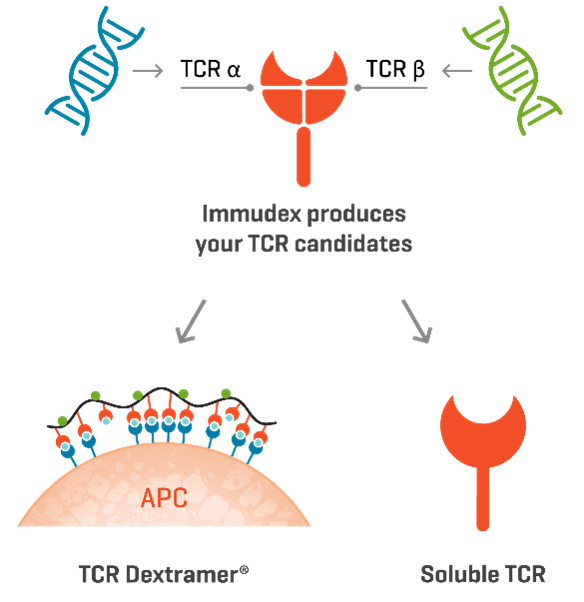 TCR Solutions
Immudex offers TCR Solutions providing Soluble TCR Monomers and TCR Dextramer® reagents to enable the quantification of Antigen-Presenting Cells, validation of TCR candidates, and other applications within CAR-T and TCR-T therapy.
Discover TCR Solutions
Want to Hear More About Our Cell Therapy Solutions?
Fill in the form and one of our dedicated specialists will get in touch with you shortly