Dextramer® – the Backbone of Precision Immune Monitoring
s
Dextramer® Technology
Dextramer® reagents were designed to help researchers and clinicians worldwide to obtain high-quality results.
They contain multiple binding sites and numerous fluorophores to boost avidity in binding antigen-specific T cells to isolate populations even when these are rare or have low-affinity receptors. That same configuration is at the core of other Immudex products that enable multiplexing and expand the types of cells that can be targeted to unravel complex immune responses.
High Performance From a Pioneering Tool That Keeps Evolving With Science
Obtain Results Unrivaled in Sensitivity and Specificity
The dextran backbone of Dextramer® reagents accommodates numerous MHC-peptide complexes. Thus, each molecule presents several options to bind cell receptors in a flexible configuration that promotes multi-binding to increase avidity.
As a result, Dextramer® binding time is significantly longer than other multimers. Dextramer® enables highly specific detection of CD4+ and CD8+ T cells even with low-affinity receptors or at low cell counts helping researchers to uncover T-cell populations that other multimer technologies miss.
See more performance data
Capture Low-affinity T cells
Dextramer® captures T-cell populations that go undetected by lower-count multimer probes. The rigid configuration of those traditional reagents can interfere with binding dynamics, limiting the detection sensitivity that is critical when T-cell receptors have low affinity for the capture antigen.
Flow cytometry data confirm that Dextramer® technology does not have this limitation. Furthermore, with a high number of fluorophores, Dextramer® also enhances staining intensity for unambiguous detection.
Obtain high resolution with minimal background signal.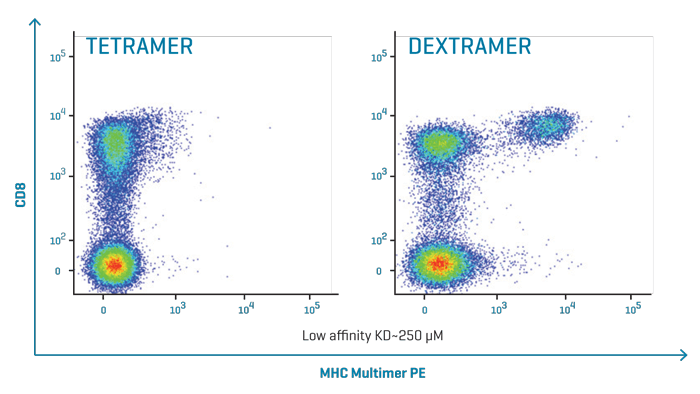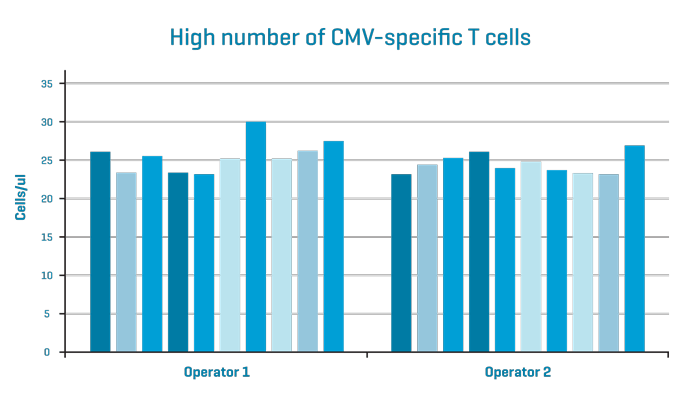 Count on Reproducibility Between Lots and Operators
Stringent quality standards are the hallmark of our manufacturing process. Every production lot undergoes meticulous scrutiny in-process and prior to release to minimize lot-to-lot variation.
The outcome is reproducible results again and again: two operators using ten different lots of Dextramer® to detect CMV-specific T cells generated comparable cell counts.
Quality tools for reliable, consistent results.
T-cell Monitoring via Flow Cytometry and In Situ Staining
T-cell Monitoring with the Power of Multiplexing
dCODE Dextramer®
Adding a DNA barcode to the dextran backbone transforms Dextramer® technology into a powerful sequencing tool that efficiently screens multiple T-cell specificities in a single sample: dCODE Dextramer®. After binding antigen-specific T-cells, each population subset is identified by amplifying and sequencing their unique DNA barcode.
Use dCODE Dextramer® products for multi-omics and single-cell analysis, high-throughput screening, and a range of customized applications.
Discover dCODE Dextramer®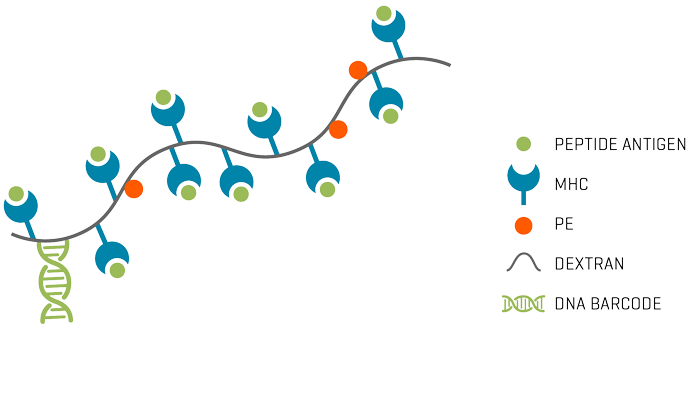 B-cell Monitoring and Beyond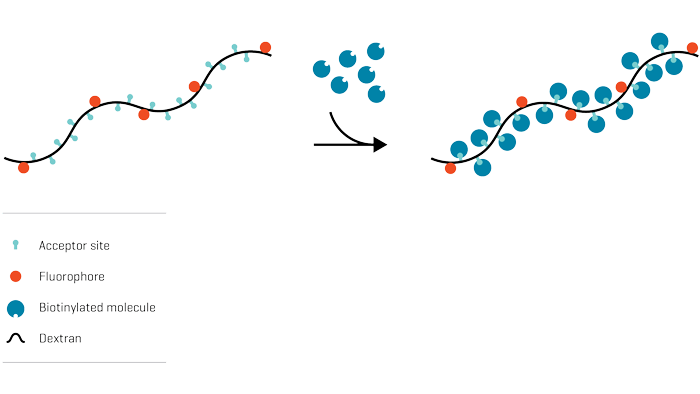 Klickmer®
A version of Dextramer® technology where the backbone contains numerous agnostic acceptor sites that bind and display any biotinylated molecule. This multipurpose tool opens new possibilities to explore immunity, from sensitive detection of B cells to antigen presentation simulations, TCR-ligand interactions, unknown ligand identification, and isolation of highly specific cell populations.
Klickmer® combined with biotinylated molecules on one backbone expands the interrogation power of these probes even further.
Discover Klickmer®
dCODE Klickmer®
To support novel applications and creative research approaches, dCODE Klickmer® merges the boosted avidity facilitated by the Dextramer® technology, the multiplexing capacity of dCODE Dextramer®, and the customized loading of Klickmer®.
These reagents are highly customizable, top-quality tools to investigate uncharted immune responses and new cell population subsets. Leverage complete flexibility to create the reagent that can tackle your specific research question.
Discover dCODE Klickmer®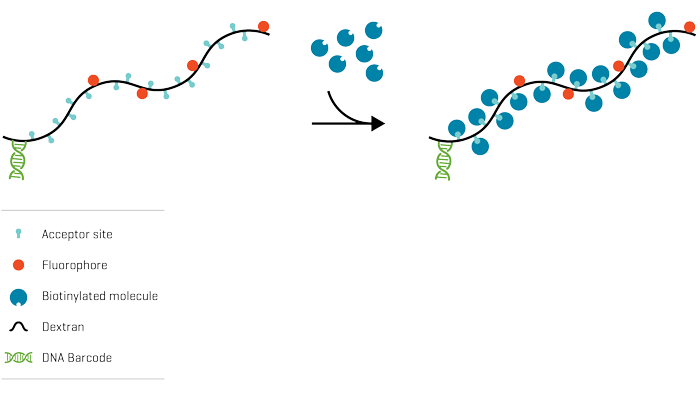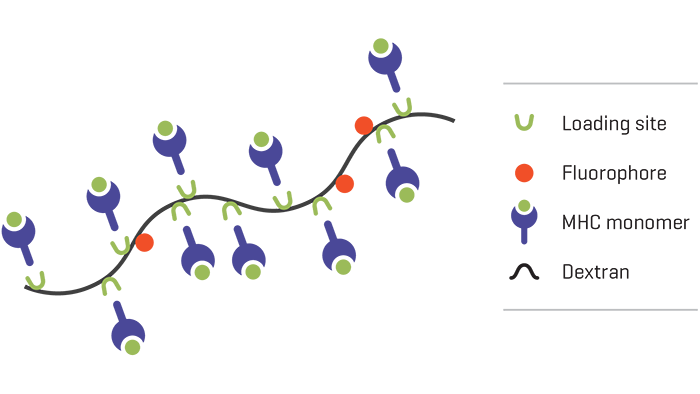 U-Load Dextramer® Technologies
Taking flexibility to new levels while retaining the stability and sensitivity of Dextramer® technology, U-Load Dextramer® binds and displays your self-assembled biotinylated MHC I or MHC II allele-peptide complex. Using U-Load Dextramer® Kits for flow cytometry or U-Load dCODE Dextramer® Kits for single-cell multi-omics analysis, easily make custom reagents directly in your lab to boost specificity and streamline sample screening.
Simply bind your peptide of choice to an exceptional selection of MHC allotypes and load the complex onto U-Load Dextramer® or U-Load dCODE Dextramer®.
Discover U-Load Dextramer®
The dCODE® technology is disclosed in granted and pending patents within the WO 2015/185067 and WO 2015/188839 patent families including US11402373, US11585806, US11668705, EP3152232, AU2015271324, AU2019264685, SG11201610177U and JP6956632.