MHC Dextramer® Technology
Revolutionize Your Immune Monitoring Assay
MHC Dextramer® reagents are superior MHC multimers capable of efficiently detecting all antigen-specific CD4+ or CD8+ T cells by flow cytometry. MHC Dextramer technology allows the detection of very low affinity antigen-specific T cells that cannot be identified by other technologies. 
MHC Dextramer reagents consists of a dextran backbone, carrying an optimized number of MHC molecules and fluorochromes. The dextran backbone stabilizes the conformation of the attached proteins, making MHC Dextramer reagents highly stable.
MHC Dextramer technology is widely used for epitope discovery and immune monitoring, to achieve accurate and reproducible results in basic research and clinical trials within immuno-oncology, transplantation, autoimmunity, and infectious disease.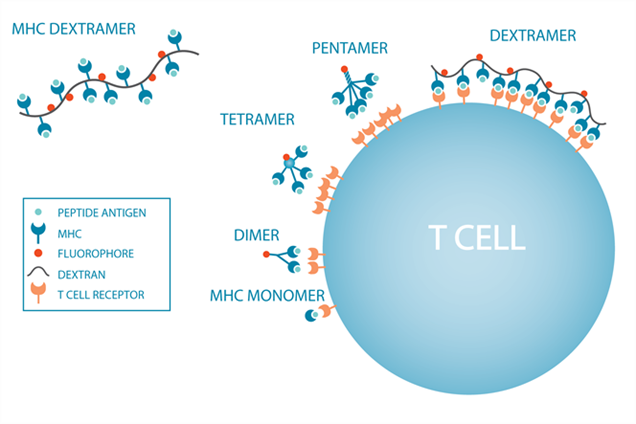 Key Features of MHC Dextramer:
High number of MHC molecules and fluorophores

Increased avidity for T cells

Enhanced staining intensity

Minimal background staining

Detection of low-affinity T-cell receptors
The unique features of MHC Dextramer enable the discovery of T-cell specificities that could not previously be investigated by other techniques, thus creating a new understanding of T-cell immunity.
Discover MHC I and MHC II Dextramer products.