U-Load dCODE Dextramer®
Fully flexible targeted T-cell monitoring coupled to the power of Single-Cell Multi-Omics
Leverage the highly parallelized format of next-generation sequencing (NGS) to elevate the throughput of immune monitoring workflows.
The flexible engineering of U-Load dCODE Dextramer® unifies the "plug-and-play" architecture of U-Load Dextramer® with the unique DNA labels of dCODE®. Define an antigen peptide of interest and assemble a custom MHC-peptide allele complex with your choice of a broad range of allotype monomers.
The biotinylated complexes are then loaded onto U-Load dCODE Dextramer® in just 1 hour and are ready for any multi-omics or single-cell analysis.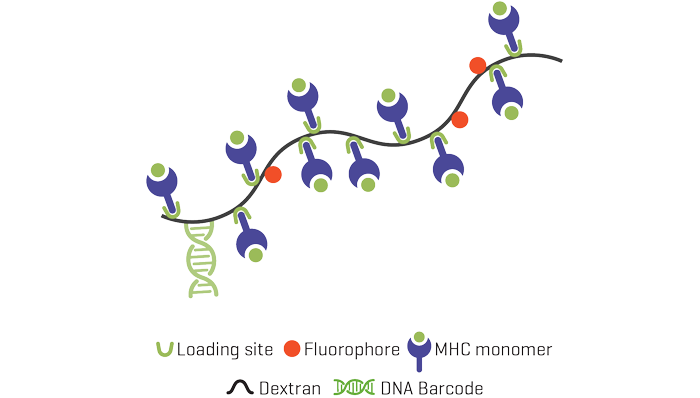 Order U-Load dCODE Dextramer®
Designed for single-cell multi-omics analysis, Immudex U-Load dCODE Dextramer® includes everything you need to create your own DNA-barcoded immune monitoring reagents:
Barcoded dextramer backbone designed to be loaded with your peptide-MHC complex
Your choice of dCODE Dextramer®: RiO, HiT or 10x
Your selection of MHC allele monomers
To order U-Load dCODE Dextramer®, please send an e-mail to ordering@immudex.com specifying the U-Load dCODE Dextramer® of your choice (HiT, 10x, or RiO) and the desired test size.
For research use only. Not for use in diagnostic or therapeutic procedures.