T-cell ELISpot Proficiency Panel
In collaboration with CIC (the US Cancer Immuno-therapy Consortium of the CRI) and CIMT (the European Association for Cancer Immunotherapy), Immudex offers Proficiency Panels as a non-profit service to help researchers and clinicians worldwide evaluate and compare their immune monitoring performance with T-cell ELISpot assays.
Using laboratory-specific protocols, plates, and plate reader, participants determine the number of IFN-γ secreting antigen-specific T cells in provided PBMC samples using ELISpot and receive a report comparing the results from all participating laboratories.
What You Receive
PBMC samples: identical for all participants
Peptide pools: PepMix™ HCMV (pp65) + CEFX Ultra SuperStim Pool
Negative control reagent
Assay instructions
What You Measure
Spot count per well after stimulation with either a peptide pool or a negative control reagent​
T-cell ELISpot proficiency panel – step-by-step
Registration opens Autumn 2022​

SIGN UP

RECEIVE SAMPLES

ANALYZE SAMPLES

UPLOAD DATA

RECEIVE REPORT

Register

PBMC

JPT's PepMixTM HCMVA (pp65), CEFX Ultra SuperStim Pool and a negative control reagent

Assay instructions

Use your own protocol to analyze PBMC samples according to the instructions
Report your results back to Immudex
Get a report with all participants' performance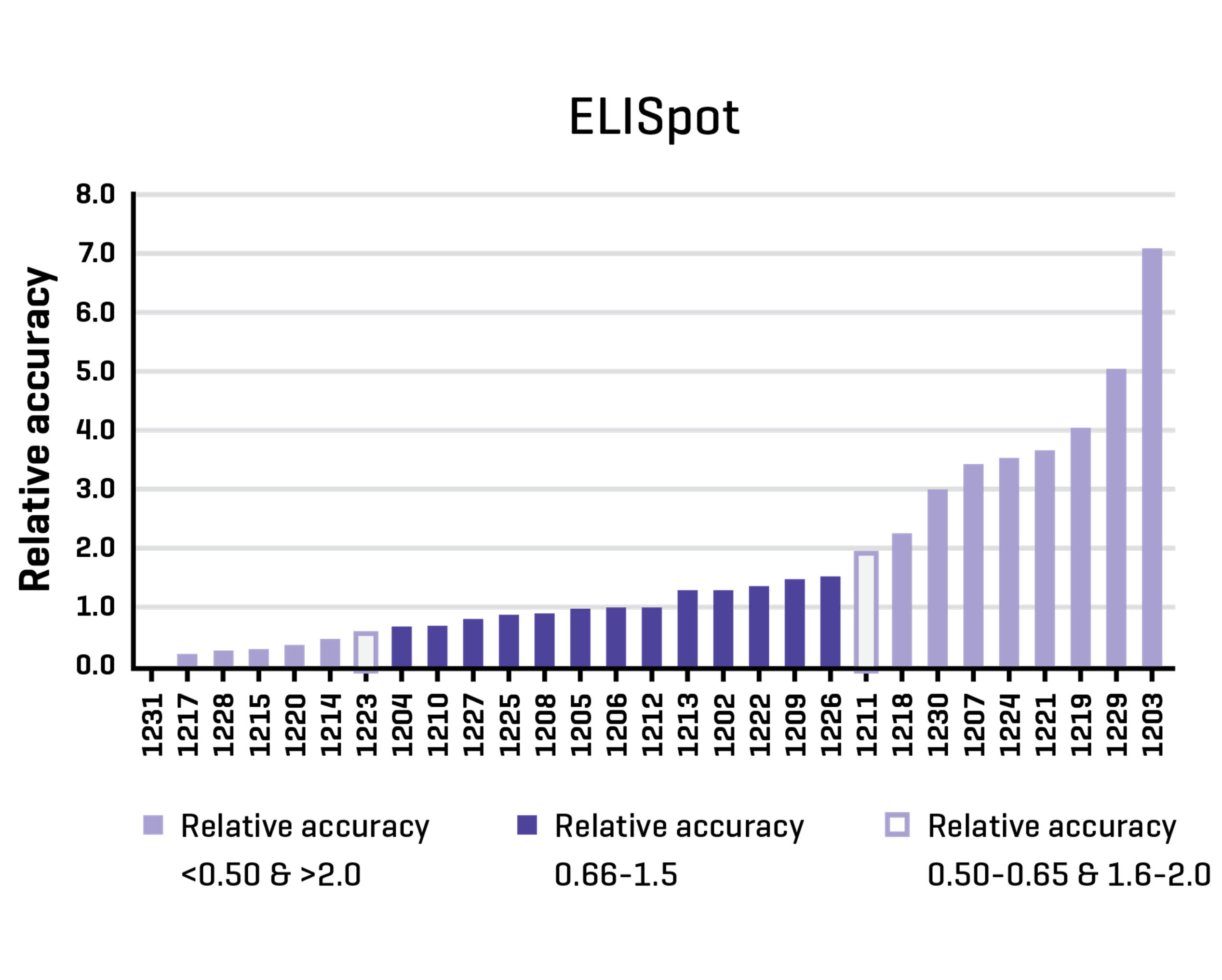 Proficiency Performance 2021
In the ELISpot Proficiency Panel 2021, all laboratories received identical PBMC samples for identification of IFN-γ secreting antigen-specific T-cells, and results were collated to assess the relative accuracy of results across the different laboratories. 13 of the 29 participants (44,8%) had a relative accuracy of between 0.66-1.5 and are considered to be "in the average range" (dark purple columns).
Learn more in the T-cell ELISpot Proficiency Panels 2021
Acknowledgements
JPT Peptide Technologies sponsors peptide pools used in the ELISpot assays.
Mabtech conducts quality control of the PBMC samples before these are shipped to participants.
Participation Fees
| | |
| --- | --- |
| Academia and Non-profit Organizations | 1300 EUR / 1500 USD |
| Zero-revenue biotech companies | 1750 EUR / 2000 USD |
| Positive-revenue biotech companies | 2300 EUR / 2650 USD |
| Pharmaceutical companies and CROs | 2600 EUR / 3000 USD |
Registration For 2022 T-cell ELISpot Proficiency Panel
Registration for the 2022 T-cell ELISpot Proficiency Panel opens in Autumn 2022. Contact us at customer@immudex.com to if you'd like to be informed when registration opens.