Identify Multiple Antigen-specific T Cells in One Sample
The immune response is complex and not always restricted to one antigen or a single cell surface marker. The human T-cell repertoire is vast and comprises more than 107different T-cell receptors (TCRs), each of them able to detect up to 106 sequence variations of a peptide. The extreme diversity of the TCR repertoire represents a major analytical challenge and requires T-cell monitoring assays that are able to measure multiple parameters at the time. 
dCODE Dextramer® (HiT) carries a unique DNA barcode, coding for the MHC-peptide specificity displayed on the Dextramer. The MHC-peptide specificity displayed on a cell-binding dCODE Dextramer® (HiT) molecule can be identified by PCR and sequencing of the attached DNA barcode.
dCODE Dextramer® reagents are designed for multiplexing, allowing identification of many different T-cell specificities in the same sample. Creating personalized dCODE Dextramer® libraries makes it possible to profile patients' T-cell repertoire and get a new understanding of T-cell immunity.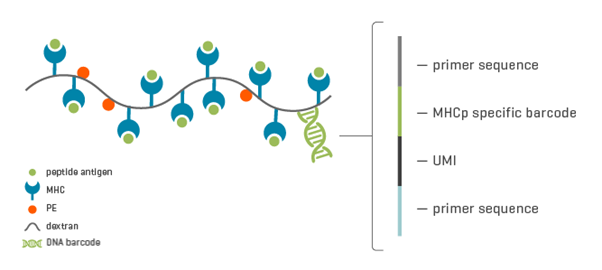 Discover dCODE Dextramer® Grades:
dCODE Dextramer® grade
Features
Applications
Quality Control 
Product Size

Gold

dCODE Dextramer® reagent displaying MHC-peptide complexes. MHC I and MHC II available. Full list of alleles available here

Monitor small number of antigen-specific T-cell populations

Evaluate T-cell response in clinical trials

Consolidate epitope discovery findings

Peptide loading is quality controlled and 100% guaranteed

The product is available as single reagents

Test size: 25, 50, 150 tests

Explore

dCODE Dextramer® reagent displaying MHC-peptide complexes. MHC I alleles available: A*0101, A*0201, A*0301,  A*1101, B*0702, B*0801

Screening large number of antigen specific T-cell populations 

T-cell epitope discovery

Neoantigen screening

Peptide loading is not quality controlled

The product is available in panels (16, 32, 48, 64, 80, 96, nx96 specificities)

Test size: 10, 25, 50 tests

dCODE

®

Klickmer
dCODE Dextramer® backbone with acceptor sites for the attachment of biotinylated molecules.  Read more

Antigen peptide loading

B-cell investigation

na
The product is available as single reagents and in panels. Different volumes are available. Read more
How to Order dCODE Dextramer® (HiT)
For dCODE Dextramer®, please send an e-mail to ordering@immudex.com specifying:
The dCODE Dextramer® grade, Gold or Explore
Your choice of MHC-peptide combinations. See our list of available MHC alleles
Test size
For dCODE® Klickmer, please send an email to ordering@immudex.com, specifying:
if you are interested in single reagents or panels
the volume and number of specificities (number of different dCODE Klickmer reagents, each carrying a specific DNA oligo barcode)
References
Viborg N, et al. T cell recognition of novel shared breast cancer antigens is frequently observed in peripheral blood of breast cancer patients. Oncoimmunology. 2019 Sep 30;8(12):e1663107
Pedersen NW, et al. CD8+ T cells from patients with narcolepsy and healthy controls recognize hypocretin neuron-specific antigens. Nat Commun. 2019 Feb 19;10(1):837