Identify NKT Cells
NKT cells are associated with a broad range of diseases such as autoimmune, infectious, cancer, and graft versus host disease.
CD1d Dextramer® are flow cytometry reagents that can identify CD1d restricted NKT cells.
CD1d Dextramer reagents consist of a protein-stabilizing dextran backbone, an optimized number of CD1d lipid complexes, and fluorophores (PE, APC, or FITC) or no Fluorophore (None).
We manufacture CD1d Dextramer where the CD1d lipid complexes are loaded with the glycolipid alpha-Galactosyl Ceramide (α-GalCer) and CD1d Dextramer without a lipid for you to load another lipid, or create a negative control reagent.

| | | |
| --- | --- | --- |
| CD1d Dextramer® | Glycolipid | Cat. No. |
| Human CD1d | α-GalCer | XD8002 |
| Mouse CD1d | α-GalCer | YD8002 |
| Human CD1d | Empty | XD8001 |
| Mouse CD1d | Empty | YD8001 |
How to Order CD1d Dextramer®
Please send an e-mail to ordering@immudex.com specifying:
Cat. no.
Fluorophore (PE, APC or FITC)

or no Fluorophore (None)

Test sizes (15, 50, 150, 500 or 1000 tests)
Immudex has updated the catalog numbers. To learn more about it, please consult the document here
| | | |
| --- | --- | --- |
| Test Size | Price (EUR) | Price (USD) |
| 15 tests | 499 | 599 |
| 50 tests | 1.149 | 1,349 |
| 150 tests | 2.149 | 2,399 |
| 500 tests | 5.139 | 5,779 |
| 1000 tests | 8.499 | 8,999 |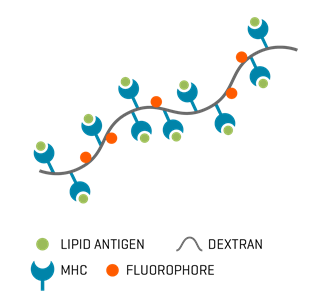 Our Technology
All our products are based on the following technologies: