CD1d Dextramer® – Identify NKT Cells with Confidence
Non-conventional T Cells in the Spotlight
Natural killer T (NKT) cells are CD1d-restricted T cells that recognize lipids and diverse glycolipids of pathogens. Their importance to immunity is exemplified by their implication in the development of autoimmune diseases, cancer, and possibly asthma.
The modular flexibility of CD1d Dextramer® reagents allows coupling CD1d with glycolipid alpha-Galactosyl Ceramide (α-GalCer) and an optimized number of fluorophores on a stabilizing dextran backbone. The result is a highly effective reagent to detect and enumerate invariant NKT (iNKT) cells.
CD1d Dextramer® is also available empty, without a lipid, so you load your lipid of choice, or create a negative control for your experiment.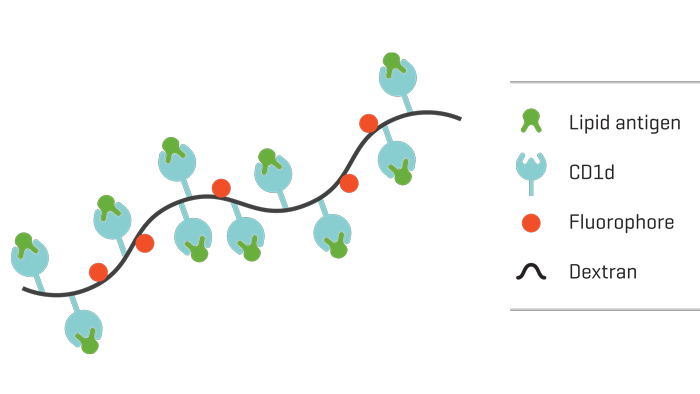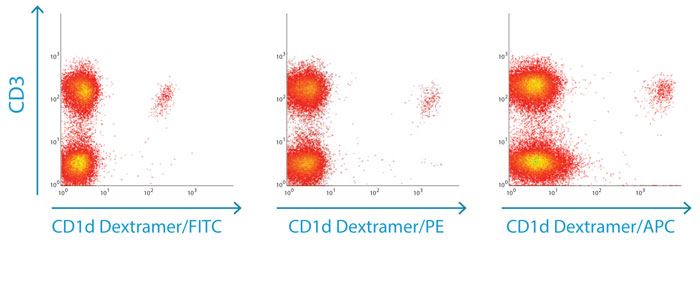 Dextramer® Leaves No Cell Undetected
Combining the high avidity, stability, and ease of use, CD1d Dextramer® reagents shed new light on NKT cells
Use high-quality, research-ready reagents
Interpret resulting data with ease
Generate consistent and reproducible results
Order CD1d Dextramer®

CD1d Dextramer® is also available as CD1d dCODE Dextramer®. Identify NKT Cells down to the single-cell level by NGS or single-cell multi-omics.
CD1d dCODE Dextramer® is available in different formats (HiT, RiO, and 10x).
To order CD1d Dextramer® reagents, consult the table below and send an e-mail to [email protected] specifying:
Catalog number
Fluorophore (PE, APC, FITC, or none)
Test size (50, 150, 500, 1000 tests)
| | | |
| --- | --- | --- |
| CD1d Dextramer® | Glycolipid | Cat. No. |
| Human CD1d | α-GalCer | XD8002 |
| Mouse CD1d | α-GalCer | YD8002 |
| Human CD1d | Empty | XD8001 |
| Mouse CD1d | Empty | YD8001 |
Dextramer® Leaves No Cell Undetected
Combining the high avidity, stability, and ease of use, CD1d Dextramer® reagents shed new light on NKT cells
Use high-quality, research-ready reagents
Interpret resulting data with ease
Generate consistent and reproducible results