Reliable Detection of Ligand-Specific MAIT cells with MR1 Dextramer® Technology
Detect, Isolate, and Validate Ligand-specific MAIT cells
Mucosal-associated invariant T (MAIT) cells have a complex role in immunity but are proving attractive targets for immunotherapy. To understand their potential further, better research tools are needed.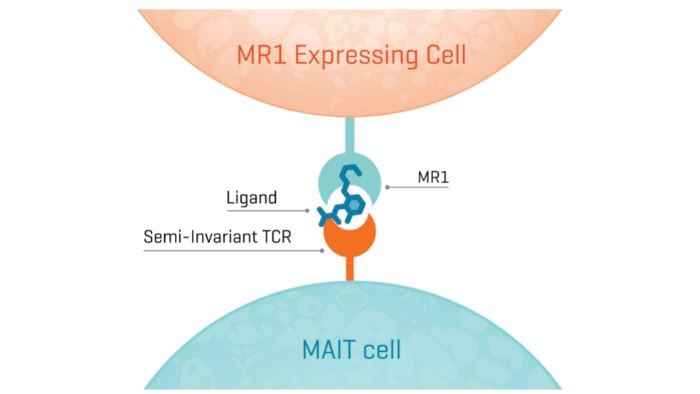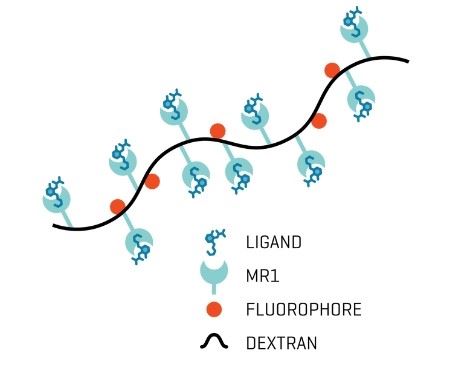 Discover the Power of MR1 Dextramer®
With an optimized number of MR1-ligand complexes and a high number of fluorophores, MR1 Dextramer® reagents provide superior sensitivity and resolution in detecting and sorting ligand-specific MAIT cells.
Investigate the Ligand-Specific MAIT cell Response
Whether MR1 Monomers, MR1 Dextramer® or MR1 dCODE Dextramer® reagents, Immudex offers two ligands, preloaded into the MR1 Monomer:
5-OP-RU: potent activator. Derived from the condensation of microbial 5-A-RU with methylglyoxal
6-FP: Negative Control. A photosynthetic breakdown product of folic acid that is non-stimulatory for most MAIT cells.
Custom ligand-MR1 specificities can be requested through Custom Solutions and Services.
The MR1 Product Portfolio
Immudex provides flexibility to your MAIT cell research by offering biotinylated human MR1 Monomers and MR1 dCODE Dextramer® reagents in addition to MR1 Dextramer® technology for your assay of choice.




Optimize for Your Assay of Choice
Human
Biotin
20, 100, 200 µg
5-OP-RU
6-FP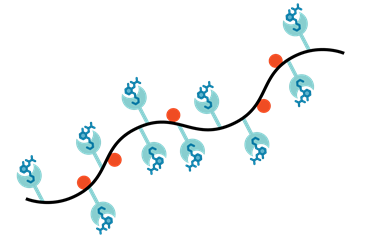 In situ
Flow Cytometry
Human
FITC, PE, APC
50, 150 tests
5-OP-RU
6-FP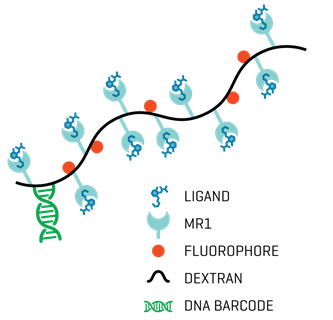 NGS
Single-cell Multi-omics
Human
PE
25, 50 tests
5-OP-RU
6-FP

Reagents to Address Challenges in Expansion
Optimize ligand-specific MAIT cell stimulation, activation, and expansion in preclinical testing of MAIT cell therapy using MR1 Dextramer® reagents.
Goals
Validate target expression and transduction efficiency
Determine MAIT cell number and transduction efficiency to ensure optimal dosage
Analyze expansion phenotype (+antibodies)
Investigate proliferation (+proliferation dye)
Document stimulation-induced activation (+antibodies)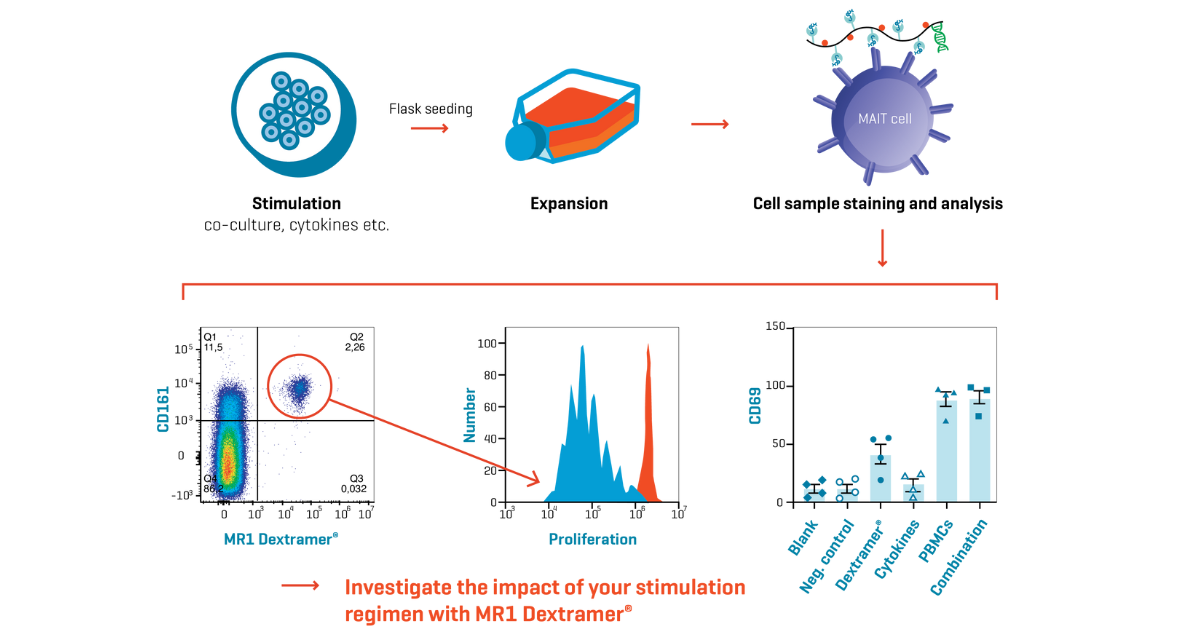 No Compromises on Performance
MR1 Dextramer® reagents detect 5-OP-RU specific MAIT cells with high sensitivity and resolution whether the fluorophore is FITC, PE, or APC and with minimal background independent of the specificity used. Ligand-specific MAIT cells were gated in the live cell population, single cells, CD3+ CD161+, and in MR1 Dextramer®+ gate.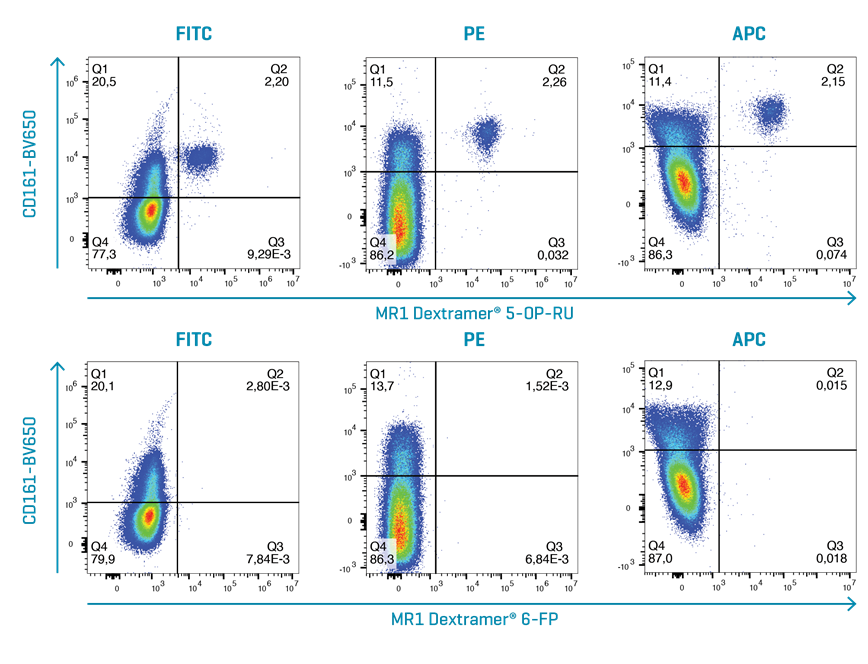 Push the Limits of Your Research with MR1 Dextramer® Technology
Dextramer® technology provides better research tools to:
Detect ligand-specific MAIT cells with great precision. Investigate ligand specificity with great sensitivity and resolution for a better understanding of MAIT cell ligand recognition, function, and regulation in different disease stages when combined with phenotypic analysis
Understand ligand-specific MAIT cell function. Combined with cell surface markers, investigate MAIT cell phenotype, activity, and function for better insights
Validate target recognition. Validate MAIT cell target interaction or validate target recognition of new therapies like monoclonal antibodies using MR1 Dextramer® for more targeted and effective treatments.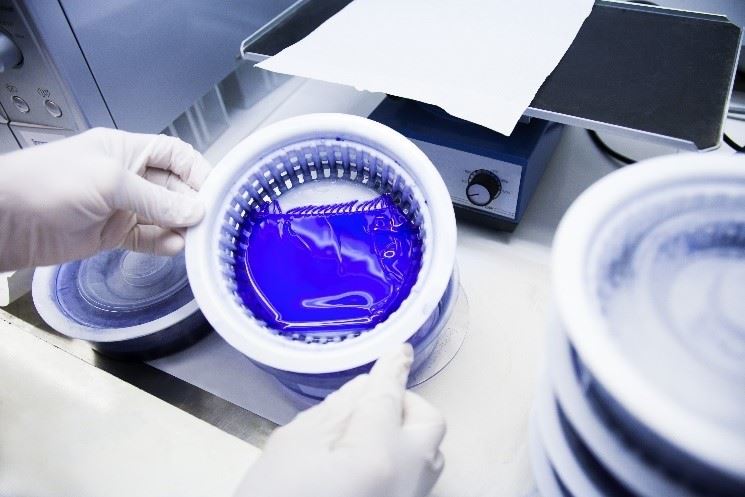 No Compromises on Quality
We strive to ensure that our products are synonymous with quality. Our products undergo multiple quality checks during production and on finished goods to provide you with the highest quality MR1 Monomers or MR1 Dextramer® reagents.
Learn more About Quality
Protocols
The staining procedure for MR1 Dextramer® is described in the MHC Dextramer® staining procedure.
Find the protocol here!
Order MR1 Dextramer® Reagents
To order MR1 Products, please send an e-mail to [email protected] specifying information on:
Your preferred reagent format: MR1 Dextramer®
Your preferred ligand; 6-FP and 5-OP-RU
Your preferred dye: PE, APC, FITC, or None
Test size
| | | | | | | |
| --- | --- | --- | --- | --- | --- | --- |
| Product | MR1 | Ligand | Label | Amount | Price (EUR) | Price (USD) |
| MR1 Dextramer® | Human MR1 | 5-OP-RU | FITC, PE, APC, or none | 15 / 50 / 150* tests | 995 / 2430 / 5395 /17825 | 995 / 2795 / 6210 / 20515 |
| MR1 Dextramer® | Human MR1 | 6-FP | FITC, PE, APC, or none | 15 / 50 / 150* tests | 995 / 2430 / 5395 /17825 | 995 / 2795 / 6210 / 20515 |
*Higher amounts or test sizes are available upon request.
Questions?
Do you have questions about the MR1 Dextramer® technology, implementing our technology into your experimental workflow, protocol optimization, or data analysis and interpretation?
Our technical support team consists of highly skilled scientists that are here to empower you to improve your results, provide you with the tools for success, and share our expertise.