dCODE Dextramer® (10x compatible)
Identify Antigen-specific T Cells and TCR Clonotypes at Single Cell Resolution
Identification of antigen-specific T-cell epitopes and their cognate T-cell receptors is key to the development of vaccines and immunotherapies. dCODE Dextramer® technology enables determination of T-cell antigen-specificity at single cell resolution, providing simultaneous information on T-cell receptor clonotypes and gene expression.
dCODE Dextramer (10x compatible) reagents are DNA barcoded MHC Dextramer reagents designed for use with 10x Genomics Feature Barcode protocol for Single Cell Immune Profiling. Each  unique barcode is specific for the MHC-peptide displayed on the dCODE Dextramer. dCODE Dextramer also carries a PE-label for sorting and enrichment of rare cell populations.
dCODE Dextramer reagents are designed for multiplexing, allowing identification of many different T-cell specificities in the same sample. Creating personalized dCODE Dextramer libraries, it is possible to profile patients' T cells and get a new understanding of T-cell immunity.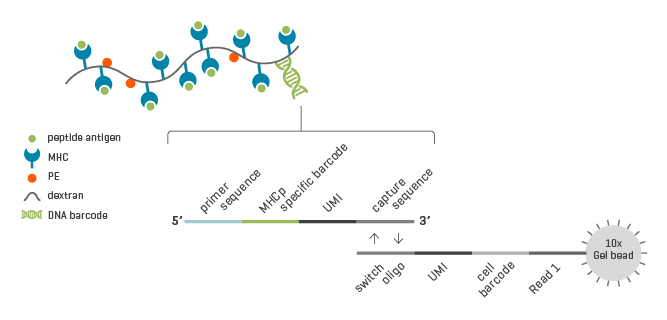 Discover dCODE Dextramer® Grades:
dCODE Dextramer® grade
Features
Applications
Quality Control 
Product Size

Gold

dCODE Dextramer® reagent displaying MHC-peptide complexes. MHC I and MHC II available. Full list of alleles available here

Monitor small number of antigen-specific T-cell populations

Evaluate T-cell response in clinical trials

Consolidate epitope discovery findings

Peptide loading is quality controlled and 100% guaranteed

The product is available as single reagents

Test size: 25, 50, 150 tests

Explore

dCODE Dextramer® reagent displaying MHC-peptide complexes. MHC I alleles available: A*0101, A*0201, A*0301,  A*1101, B*0702, B*0801

Screening large number of antigen specific T-cell populations 

T-cell epitope discovery

Neoantigen screening

Peptide loading is not quality controlled

The product is available in panels (16, 32, 48, 64, 80, 96, nx96 specificities)

Test size: 10, 25, 50 tests

dCODE

®

Klickmer
dCODE Dextramer® backbone with acceptor sites for the attachment of biotinylated molecules.  Read more

Antigen peptide loading

B-cell investigation

na
The product is available as single reagents and in panels. Different volumes are available. Read more
How to Order dCODE Dextramer® (10x compatible)
For dCODE Dextramer®, please send an e-mail to ordering@immudex.com specifying:
The dCODE Dextramer® grade, Gold or Explore
Your choice of MHC-peptide combinations. See our list of available MHC alleles
Test size
For dCODE® Klickmer, please send an email to ordering@immudex.com, specifying:
if you are interested in single reagents or panels
the volume and number of specificities (number of different dCODE Klickmer reagents, each carrying a specific DNA oligo barcode)
References
Beshnova D, Ye J, Onabolu O, et al. De novo prediction of cancer-associated T cell receptors for noninvasive cancer detection. Sci Transl Med. 2020;12(557).


Fischer DS, Wu Y, Schubert B, Theis FJ. Predicting antigen specificity of single T cells based on TCR CDR3 regions. Mol Syst Biol. 2020;16(8).


Bentzen AK, et al. Large-scale Detection of Antigen-Specific T Cells Using peptide-MHC-I Multimers Labeled With DNA Barcodes. Nat Biotechnol. 2016 Oct;34(10):1037-1045


Regeneron presentation, "Multiplexing Oligo-Dextramer to Pair TCR Specificities with Phenotypes" https://www.youtube.com/watch?v=i3qr_0kjkfw&feature=youtu.be&t=1