Examine T-Cell Epitopes and their Cognate Receptors at a Single-Cell Level
Barcoded dCODE Dextramer® (10x) reagents add granular information about antigen specificity to 10x Chromium Single Cell Immune Profiling
In-Depth Phenotyping and Genotyping of Disease-Specific T-Cell Populations in a Single Sample
Knowledge about T-cell specificity during an immune response can advance therapy development and personalized treatments.
A panel of dCODE Dextramer® (10x) reagents can tease apart disease-specific populatins of T cells at a single-cell level due to the compatibility with the 10x Chromium, aligning each tested epitope with its corresponding specificity and receptor sequence. Coupled to gene expression data, each population can be further stratified based on transcriptional profiles.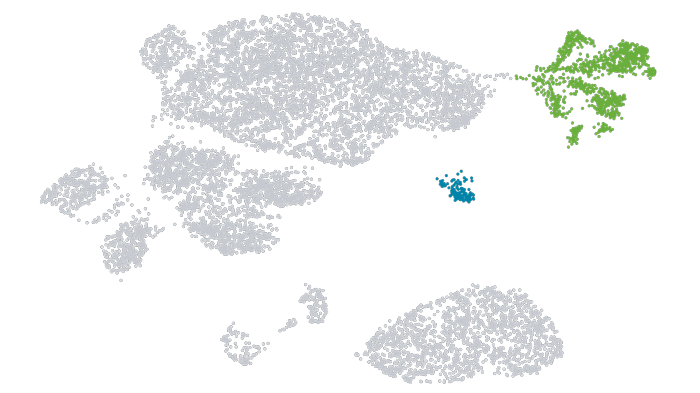 The Next Generation of Tools for the Multiparametric Analysis of Immune Cells
Ready-to-use reagents designed for multiplexing and compatibility with 10x Chromium System
Merge highly sensitive identification of T-cell populations with gene expression data
Use the high avidity of Dextramer® technology to examine even low-affinity T-cell populations
Enrichment of low-frequency cells thanks to an optimized number of fluorochromes
Run massively multiplexed screenings to reveal person-specific diversity in cellular immunity
Immune Profiling at Higher Throughput and Deeper Insights
Laboratories exploring the role of immune cell subpopulations in immune responses use dCODE Dextramer® (10x) reagents to couple information about gene expression, surface protein, and VDJ sequences with antigen specificity at single-cell level.
Designed for multiplexing, dCODE Dextramer® (10x) reagents resolve the diversity of T-cell specificities in a single sample. Even low-frequency populations are characterized thanks to the high avidity of our reagents. Uncover new antigen-specific populations in high-throughput experiments that generate high-quality and reproducible data.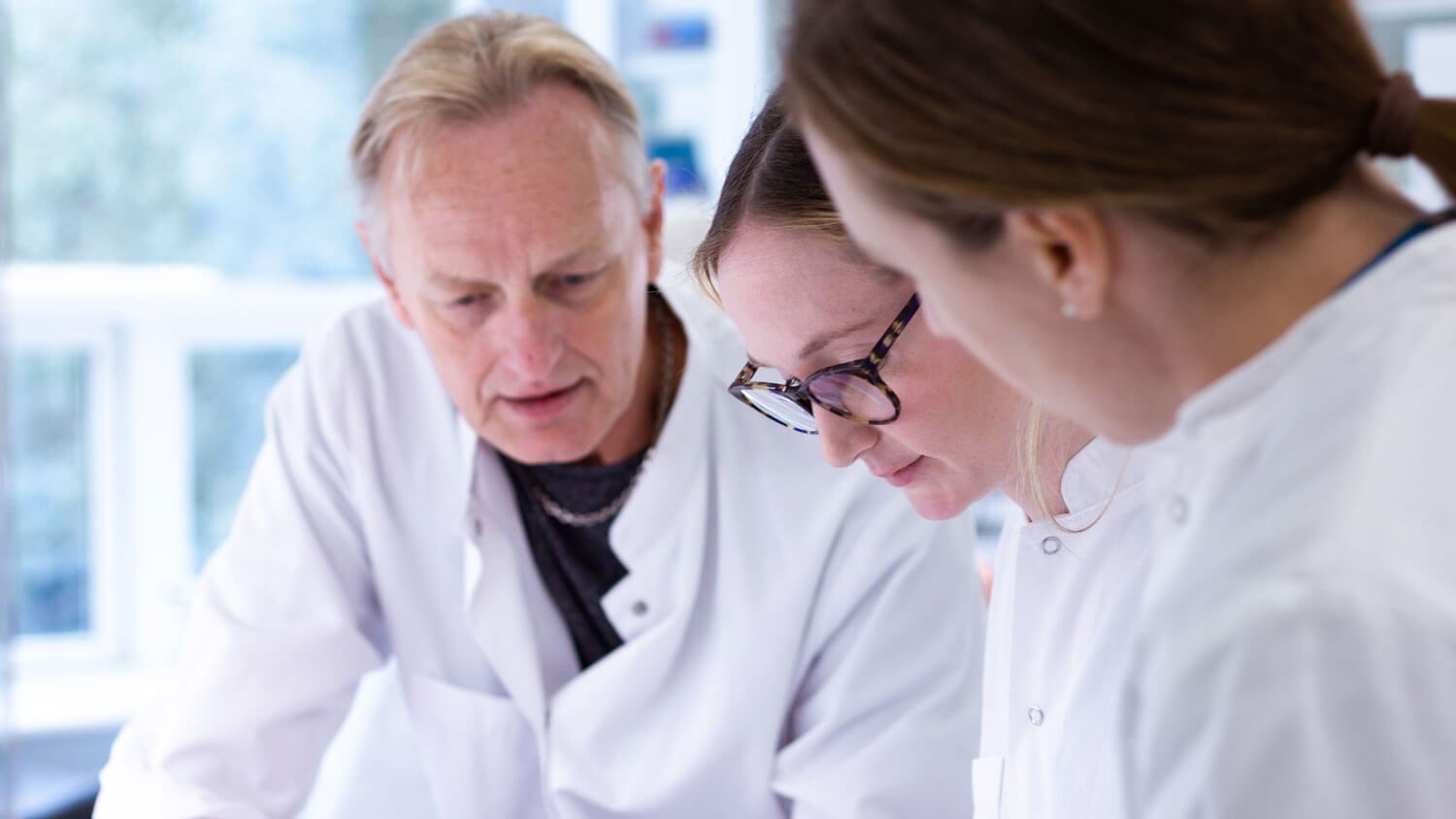 Every T Cell is Important. Every T Cell can be Revealed.
Profile each CD4+ and CD8+ T cell in a sample, from their specific epitope to the sequence of their receptors and correlated expression of genes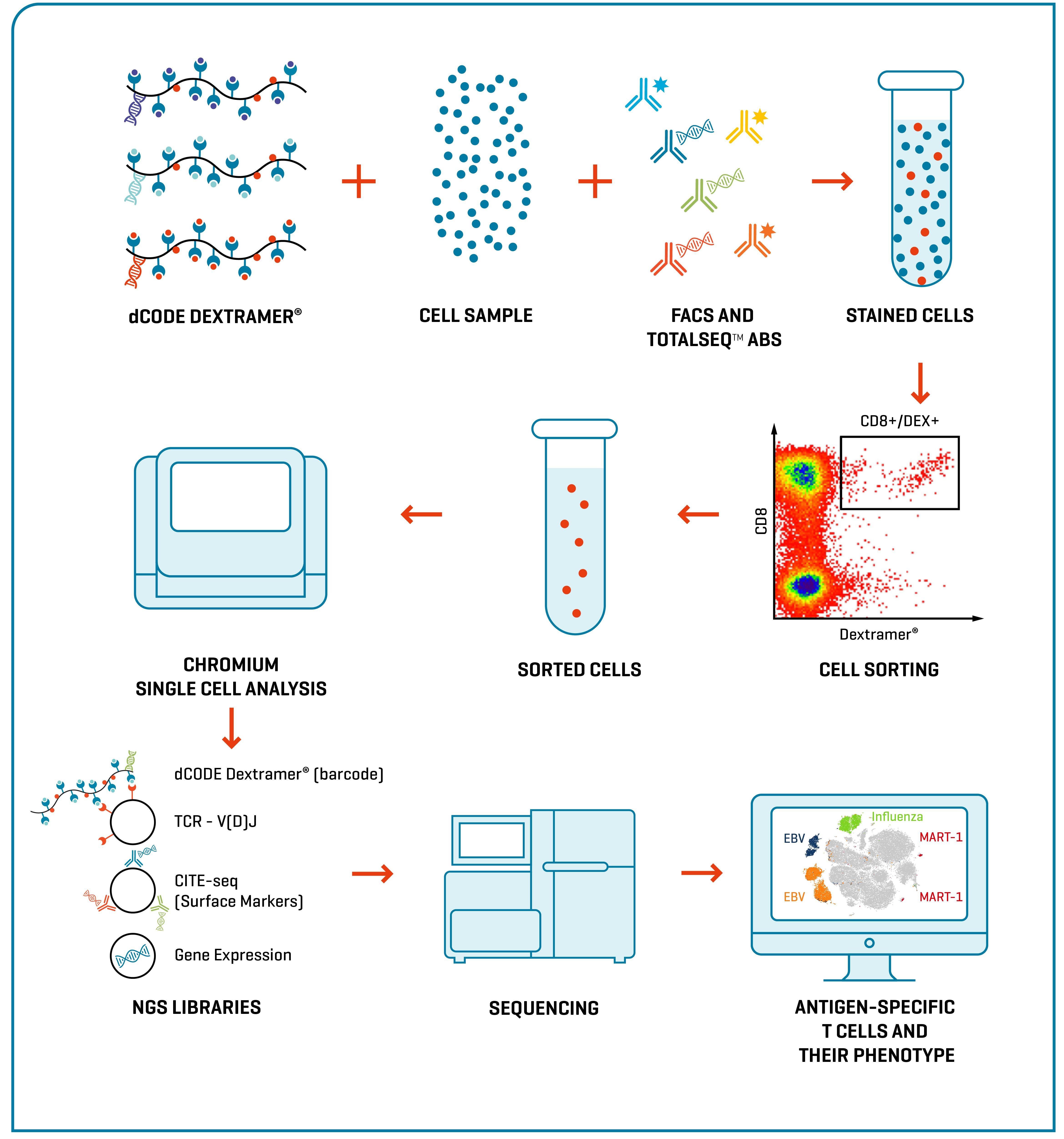 Expand Your Research Limits with Klickmer® and U-Load® Technology
dCODE Dextramer® reagents feature both MHC I and MHC II alleles, and you can produce reagents yourself using U-Load®​ reagents.
To characterize B or other cells, dCODE Klickmer® allows loading and displaying your choice of molecule. 
Order dCODE Dextramer® (10x)
dCODE Dextramer® (10x) reagents are available as single reagents or panels. Discover dCODE Dextramer® grades and test sizes
To order dCODE Dextramer® (10x) reagents, please send an e-mail to [email protected] specifying: 
dCODE Dextramer® grade, Gold or Explore
Your choice of MHC-peptide combinations. See our list of available MHC alleles.
Test size
Reagents are assigned random barcodes. Please indicate in your order if you require specific barcodes, e.g., to avoid overlap with previous orders.
Please note: Immudex has updated catalog numbers. To learn more about it, please consult our catalog here.
The dCODE® technology is disclosed in granted and pending patents within the WO 2015/185067 and WO 2015/188839 patent families including US11402373, US11585806, US11668705, EP3152232, EP3155426, HK1236546 B, AU2015271324, AU2019264685, AU2021204496, CA2951325, SG11201610177U, JP6956632 and JP7271465.