Combine Antigen-specificity With Multi-omics Analysis
dCODE Dextramer® (RiO) reagents are DNA barcoded MHC Dextramer® products designed to be compatible with BD RhapsodyTM Single-Cell Analysis System
Determine T-cell antigen-specificity at single-cell resolution, providing simultaneous information on gene expression and surface markers expression.
dCODE Dextramer® (RiO) enables the detection of antigen-specific CD8+ or CD4+ T cells with additional information of gene expression, surface marker expression and TCR sequence with applications in TCR discovery, cancer vaccine development, and more.
In this example, dCODE Dextramer® (RiO) and BD RhapsodyTM Single-Cell Analysis System were used to detect disease-specific CD4+ T cells within thousands of PBMC and to obtain their gene expression profiling at the single-cell level.
Read the Case Study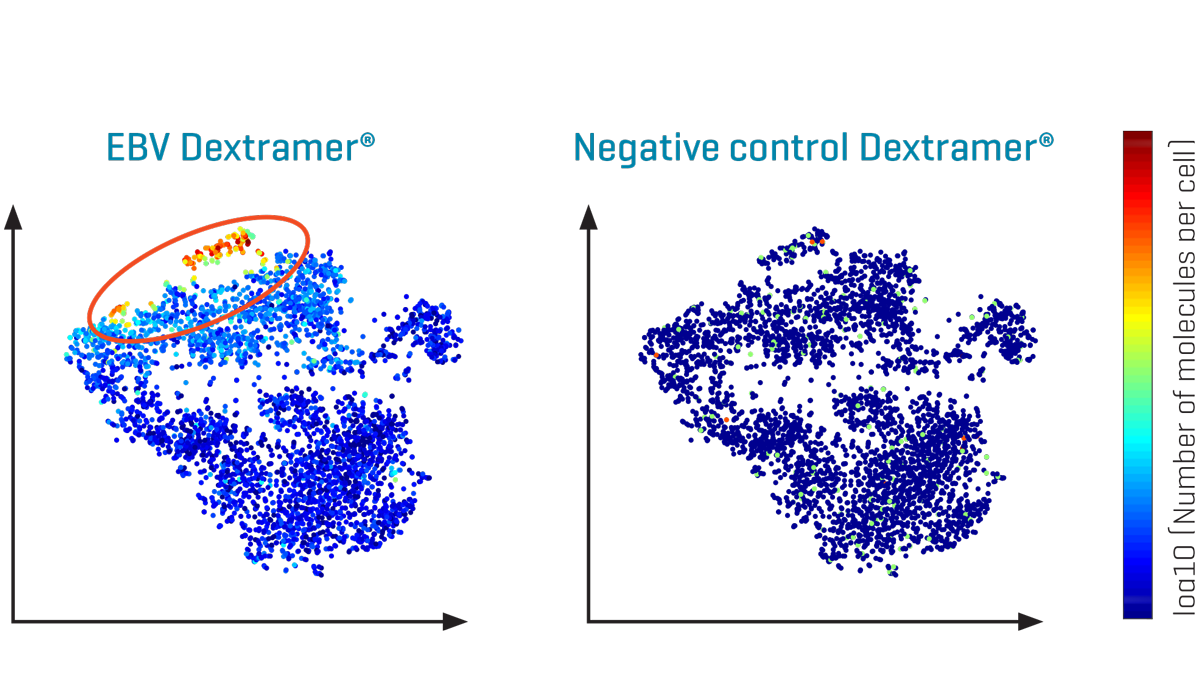 dCODE Dextramer® (RiO) identified EBV-positive T cells in a PBMC sample (left). The negative control dCODE Dextramer® did not detect any specific cells (right).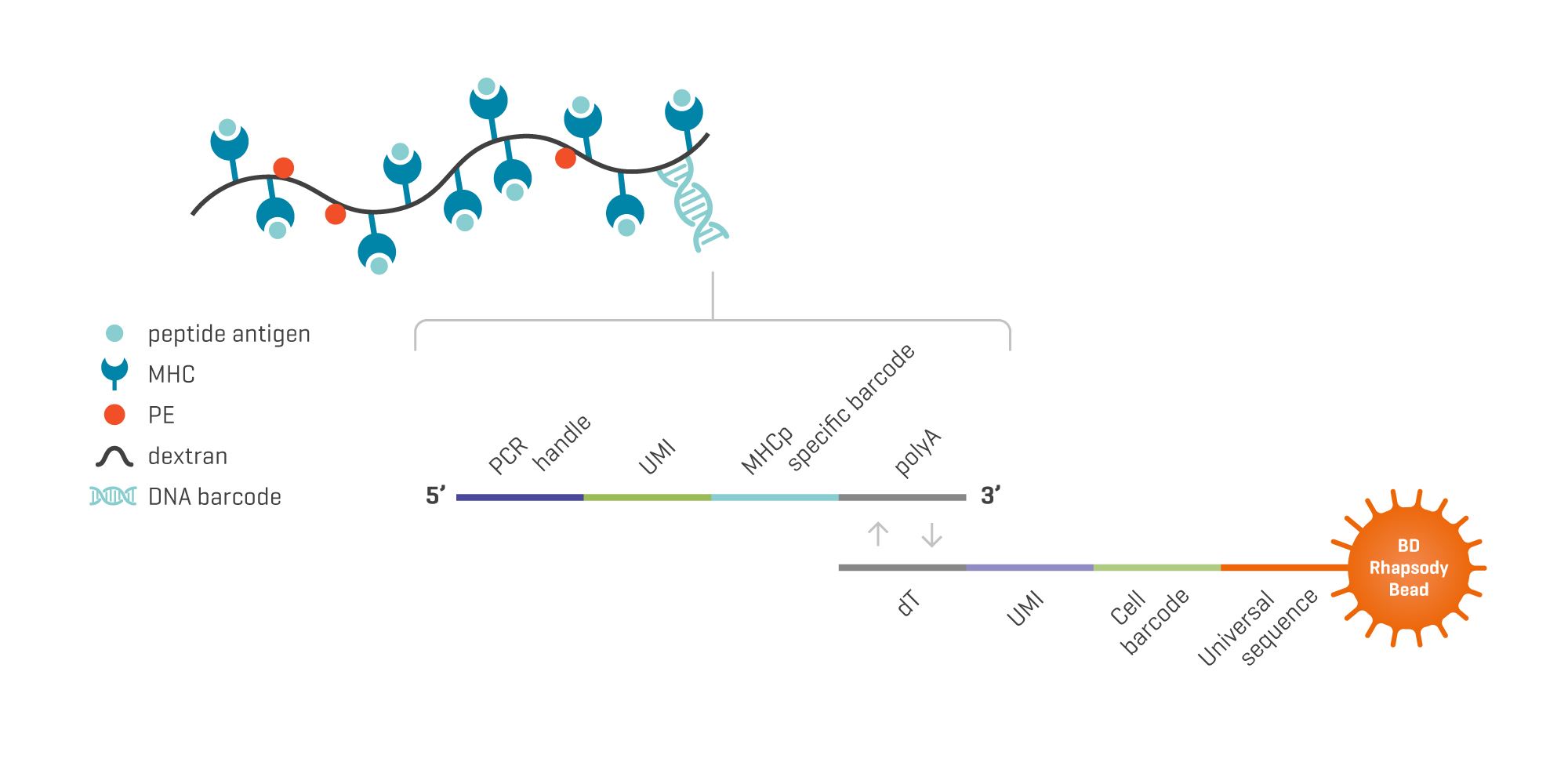 Perform simultaneous analysis of antigen specificity, transcriptomic profile, and surface protein expression andV(D)J Sequencing.
Ready-to-use reagents designed for multiplexing and compatibility with BD Rhapsody™ System

Merge highly sensitive identification of T-cell populations with V(D)J sequencing, gene expression, and surface marker expression data

Use the high avidity of Dextramer® technology to examine even low-affinity T-cell populations

Run massively multiplexed screenings to reveal person-specific diversity in cellular immunity

Enrichment of low-frequency cells thanks to an optimized number of fluorochromes

Get the most out of your sample
Combine dCODE® Technology with BD's multi-omics solutions and obtain a full immunological profiling in just one workflow
dCODE Dextramer® (RiO) Products
MHC I dCODE Dextramer® (RiO)

for the detection of CD8+ antigen-specific T cells. See available MHC alleles

MHC II dCODE Dextramer® (RiO)

for the detection of CD4+ antigen-specific T cells. See available MHC alleles

dCODE® Klickmer

to create personalized dCODE Dextramer® (RiO) by loading your choice of biotinylated molecules (for B-cell research and much more). Read more about dCODE® Klickmer
     If you want to hear more about our products, please contact [email protected]
Order dCODE Dextramer® (RiO)
dCODE Dextramer® (RiO) is now available in Europe and will soon be available in the rest of the world. 
dCODE Dextramer® (RiO) is available as single reagent or in panels. Discover dCODE Dextramer® grades and test sizes
To order dCODE Dextramer® (RiO) in Europe, please send an e-mail to [email protected] specifying: 
The dCODE Dextramer® grade, Gold or Explore
Your choice of MHC-peptide combinations. See our list of available MHC alleles
Test size
If not otherwise specified, the reagents will be assigned random barcodes. In case you require specific barcodes to avoid overlapping with previous orders, please mention it in your order.
Immudex has updated the catalog numbers. To learn more about it, please consult the document here
For research use only. Not for use in diagnostic or therapeutic procedures.
Immudex is the sole manufacturer and provider of dCODE Dextramer® (RiO) reagents, and support related to these products is through Immudex. ​​
The dCODE® technology is disclosed in granted and pending patents within the WO 2015/185067 and WO 2015/188839 patent families including US11402373, US11585806, US11668705, EP3152232, EP3155426, HK1236546 B, AU2015271324, AU2019264685, AU2021204496, CA2951325, SG11201610177U, JP6956632 and JP7271465.