Immudex MHC Monomers
Your Choice of Allele and Protein. Our Quality from Start to Finish
Where Flexibility Meets Top Quality
Immudex MHC monomers perfectly unify versatile use and stringent quality control. Highly stable at –80°C, they can be used whenever needed in your research.
The broadest range of alleles available and the security of being produced and tested under strict quality make them the most suitable choice for your research.
The image to the right shows 1µg of Immudex Monomer (HLA B*07:02 / RPHERNGFTVL, cat. no. M-WH02135) run on an SDS-PAGE Gel under reducing conditions. The high purity of the Immudex Monomer is evidenced by absence of degradation products.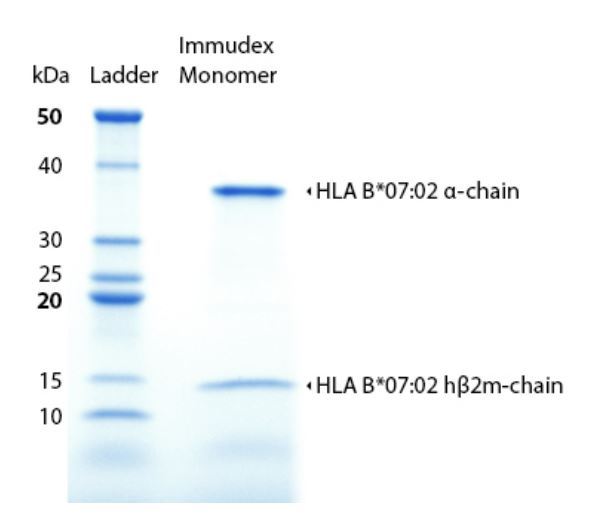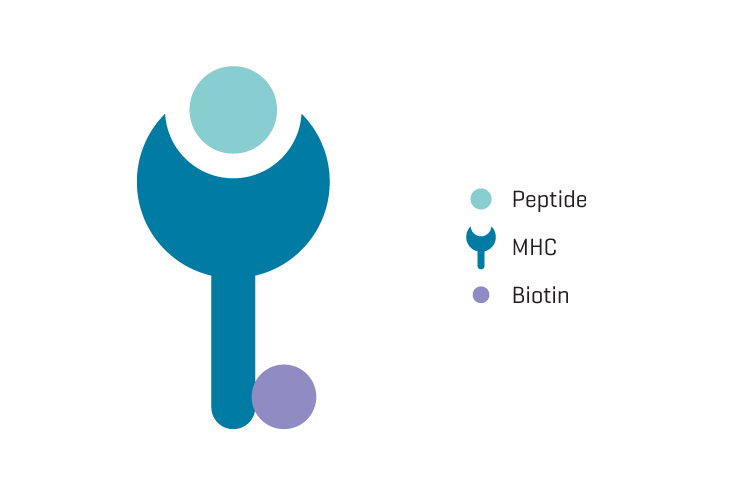 Consistent, Reliable, Ready. Nothing Less.
Strict production and quality testing
Biotinylated molecules, ready for use
Broadest MHC allele coverage available
Stable and robust in long-term storage
The Immudex MHC Monomer Portfolio
The Immudex Monomer portfolio covers a broad spectrum of monomer formats, alleles, labeling, and biotinylation options. Immudex's experts have extensive experience with MHC Monomers and are happy to help you with guidance and technical support. 
Order Custom MHC Monomers
Your research project may require an allele not covered in our portfolio, unique specificities and volumes, be manufactured according to GMP, or even non-biotinylated MHC monomers. Our Custom Solutions and Services Team can help. Make note of your requirements and contact us at [email protected].
Note: you can review a complete list of available alleles here.
Order Immudex MHC I and MHC II Monomers
Select your allele and the peptide of choice, and then send an email to [email protected] with your selection, specifying the volume you wish to order.
MHC monomers are available in different volumes: 20 µg (~50 tests), 100 µg (~250 tests), 200 µg (~500 tests). Higher amounts are also available upon request.